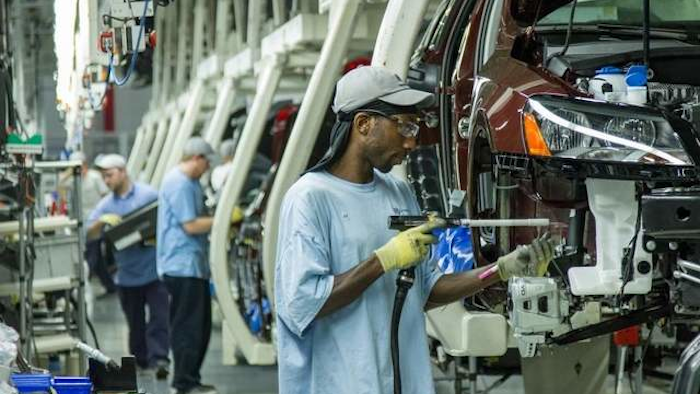 DETROIT (AP) — After weeks of negotiations, Fiat Chrysler and the United Auto Workers have hammered out a new labor agreement. But the hard work is just beginning.
While union leaders and company management spoke of a cooperative relationship during the talks, FCA's 40,000 U.S. hourly workers must vote on the deal reached Tuesday, and many are in a fighting mood, particularly some veteran workers who haven't seen a pay increase in at least a decade.
Still to come, the UAW must reach deals with Ford and General Motors, which are bigger and more profitable than FCA. Ford racked up a $6.9 billion pretax profit last year in North America; FCA made about half that.
"I don't want people to think for one minute that I'm not looking at the other companies and the amount of money that they've made," UAW President Dennis Williams said.
For their part, GM and Ford want to cut labor costs that are $8 to $9 per hour higher than U.S. plants owned by Honda and Toyota.
The UAW began bargaining in July with Ford, GM and Fiat Chrysler. The companies entered the talks intent on sticking with profit-sharing instead of increasing hourly labor costs.
In a letter sent Wednesday to employees, FCA CEO Sergio Marchionne hinted that profit-sharing is a component of the new agreement. He said the contract will give workers "substantial economic benefits" if the company meets its goals, but let it hold on to its cash in a downturn.
"It guarantees that our workers will share equitably in the success we are able to generate working together while ensuring that our company will be able to remain competitive," Marchionne wrote.
Workers at the Detroit automakers currently receive profit-sharing bonuses, but Marchionne suggested those could make up a bigger portion of their compensation. FCA workers have gotten annual profit-sharing checks totaling $9,000 per worker over the last four years; at Ford and GM, those bonuses totaled $30,200 per worker.
Marchionne said the contract also includes a progression to higher wages for entry-level workers, who currently make about half the $29 per hour that longtime workers are paid.
The UAW agreed to the two tiers of pay when then-Chrysler was near bankruptcy in 2007, but the union wants to close that gap. Around 45 percent of FCA's U.S. hourly workers now make the lower wage.
But a contract that offers profit-sharing in lieu of raises or full wage parity for entry-level workers may not sit well with some workers.
Brett Ward, who works in quality control at a factory that makes the Chrysler 200 sedan in suburban Detroit, predicts the contract will be voted down if it doesn't include a raise for longtime workers.
"It better be in there. It's beyond due," Ward said.
Ward, a 22-year veteran of the company, added that he doesn't trust the formulas used to calculate profit-sharing, and fears the financial targets won't be reachable.
But Harley Shaiken, a labor expert and professor at the University of California at Berkeley, noted that nearly half of FCA's factory workers joined the company after 2010. Many will accept the agreement because they're happy to have a stable job in an uncertain labor market, he said.
Marchionne said FCA will also partner with the UAW to figure out how to lower health care costs. A union-run trust currently funds health care for around 600,000 retirees and their spouses at all three companies. The UAW has proposed expanding that to cover 551,000 hourly and salaried workers and their families.
Williams said Tuesday evening that all three companies are interested in forming the huge health-care cooperative, but it could come together at a later date, outside of the contract.
"It ultimately is the right thing to do, to redesign and use purchasing power," he said