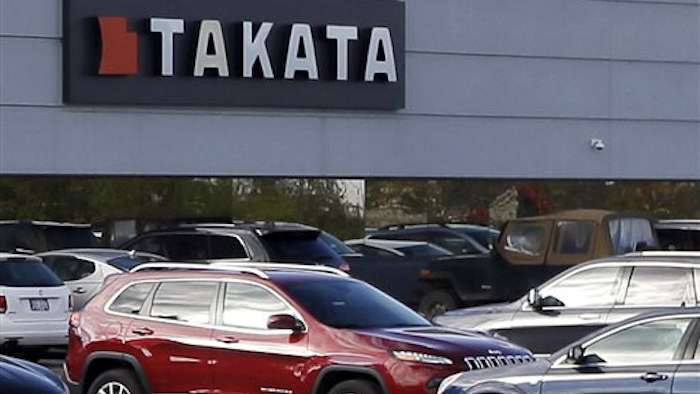 Seven more companies including electric car maker Tesla Motors could be facing recalls because they use airbag inflators made by Takata Corp., according to letters they received last week from U.S. safety regulators.
So far about 23.4 million Takata driver and passenger airbag inflators have been recalled on 19.2 million U.S. vehicles sold by 11 different companies, including Honda and Fiat Chrysler. The inflators can explode with too much force, spewing metal shrapnel. At least eight people have died worldwide and hundreds have been injured because of the problem.
The National Highway Traffic Safety Administration sent letters to Mercedes-Benz, Jaguar-Land Rover, Suzuki, Tesla, Volvo Trucks, Volkswagen and Spartan Motors seeking information on which models have Takata inflators.
"It is expected that the scope of the current Takata recalls may expand as time goes on and will likely grow to include vehicles that are outside the scope of the current recalls," the letters said.
NHTSA said one purpose of the letters is to figure out how many additional vehicles might have to be recalled. The agency is preparing for an Oct. 22 public meeting in Washington to discuss an ongoing investigation into Takata and whether the agency will take over management of all the recalls to speed up repairs. As of Sept. 1, only 4.4 million had been replaced. Automakers have had to scramble to get parts.
The agency says it also could issue an order expanding the recalls, which now cover 11 auto and truck companies including BMW, Daimler Trucks, Fiat Chrysler, Ford, General Motors, Honda, Mazda, Mitsubishi, Nissan, Subaru and Toyota.
NHTSA is asking each of the seven additional companies to identify every model that uses a Takata airbag inflator with ammonium nitrate as the propellant. The letters say Takata's theory on the cause of the problem is that the chemical degrades over time. This "could potentially lead to overaggressive combustion or potentially cause the inflator to rupture." Time, temperature and airborne moisture also play roles in the problem, the letters say.
The agency already was investigating Volkswagen because of a June crash involving an SUV near St. Louis in which the left side airbag inflated with too much force and blew apart the inflator canister. The crash between a deer and a 2015 VW Tiguan was the first reported in a Volkswagen and the first in a side airbag. Previously Takata had said the problem was limited to older designs in front and passenger airbags.
VW said at the time that it was working with NHTSA and Takata to better understand the problem. The Tiguan driver did not seek medical attention.
A Mercedes spokeswoman confirmed that the company used Takata airbags but not those involved in the recalls. Engineers are gathering model information to answer NHTSA's letter, she said.
Messages were left Monday seeking comment from the rest of the companies that received letters from NHTSA.