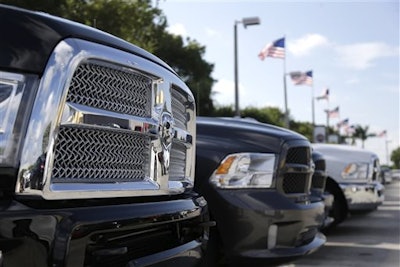 Detroit, Michigan — Chrysler's U.S. sales rose 20 percent last month, a sign that Black Friday promotions and falling gas prices drove U.S. auto sales higher in November.
Chrysler sold nearly 171,000 vehicles to post its best November in 13 years.
The company was led by the Chrysler 200 midsize sedan with sales that more than doubled to over 14,000. Chrysler sold nearly 36,000 Ram pickups, an increase of 21 percent for its top-selling vehicle. Jeep Cherokee small SUV sales rose 67 percent to nearly 17,000.
The TrueCar.com auto pricing site predicts that total U.S. sales last month will reach 1.3 million, up around 4 percent from a year ago and the fastest pace since August. The hot sales are being fueled by zero-percent financing and rebates. But the sales are still profitable for automakers due to high transaction prices.
Analysts predict that Black Friday promotions started early and helped the month close strong, and falling gas prices boosted sales of SUVs.
TrueCar President John Krafcik said deals — like zero-percent financing on new Chevrolets or a $3,500 credit on a new BMW — drew buyers, along with hot-selling new vehicles like the Cherokee and Toyota Camry.
Despite the deals, it was a profitable month for the industry, with consumers poised to set new spending records. As of mid-November, buyers were spending an average of $30,874 per vehicle, or $165 more than the previous record of $30,709 in October, according to consulting firms J.D. Power and LMC Automotive.
That was partly because buyers were loading up their vehicles with extras like adaptive cruise control and navigation, and also because low gas prices convinced many buyers to pick pricier SUVs. Gas prices fell 23 cents in November to a four-year low of $2.76 per gallon, according to AAA.
Combined record transaction prices with strong new-vehicle retail sales has November on pace for a record month for consumer spending on new vehicles at $33.3 billion. That's $1.1 billion more than the previous record for the month of November set in 2013.