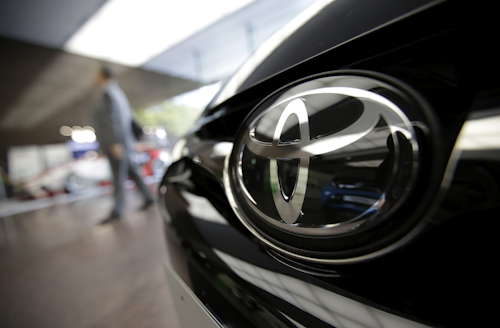 Seven major Japanese automakers are planning to spend a record 2.80 trillion yen (around $28 billion) on research and development in fiscal 2016, as they pursue more environmentally friendly, as well as self-driving, vehicles.
The combined R&D costs budgeted by Toyota Motor Corp., Honda Motor Co., Nissan Motor Co., Suzuki Motor Corp., Mazda Motor Corp., Fuji Heavy Industries Ltd. and Mitsubishi Motors Corp. represent an increase of 2.4 percent from fiscal 2015 ended March, according to the companies' recently unveiled plans.
Analysts say that while the automakers are likely to continue increasing R&D spending, rising costs could prompt them to form alliances.
Toyota has already tied up with Germany's BMW AG and Honda has teamed up with General Motor Co. of the United States in the area of developing fuel cell vehicles to reduce costs.
Toyota plans to spend a record 1.07 trillion yen on R&D in fiscal 2016, up 1.4 percent from a year earlier and accounting for 4.1 percent of its sales, as it aims to accelerate the development of fuel cell vehicles and plug-in hybrids as well as self-driving and artificial intelligence technology.
Nissan, Suzuki, Mazda and Fuji Heavy, which makes Subaru-brand vehicles, are also planning record R&D spending this fiscal year.
Nissan plans to boost its spending by 5.3 percent to 560 billion yen to speed up development of electric vehicles and batteries to generate power from bio-based fuel.
Suzuki will increase its spending by 6.9 percent to 140 billion yen to develop eco-friendly cars and new models, while Mazda is eyeing a 7.2 percent increase to 125 billion yen to improve the fuel efficiency of its cars.
Fuji Heavy will boost R&D spending by 17.2 percent to 120 billion yen to launch electric vehicles in 2021. Mitsubishi plans to spend 97 billion yen, up 23.3 percent.
Only Honda will cut R&D spending, down 4.1 percent to 690 billion yen. But it is planning to spend more than a year earlier on the development of self-driving cars, with a new research facility for artificial intelligence set to open in Tokyo in September.