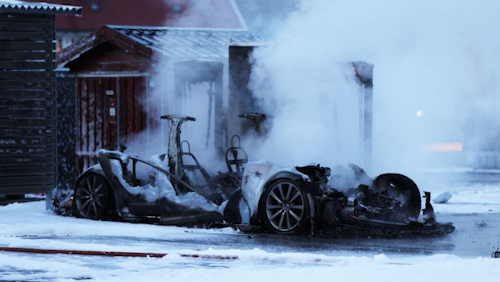 Investigators in Norway are looking into what could have caused a fire that destroyed a Tesla Model S at a charging station in the town of Gjerstad Friday. The company said in a statement that it would investigate as well, but that the charging stations in Norway were safe to use. 
This is not the first time a Tesla fire has made the news, however. In November 2013, The National Highway Traffic Safety Administration opened an investigation on the company after fires broke out in two cars when metal debris pierced the undercarriage of the vehicles, piercing the batteries. 
Tesla CEO Elon Musk defended the company at that point, saying the cars catch fire much less frequently than its gas-powered counterparts, and the company had asked the government to investigate. 
"The theoretical probability of a fire injury is already vanishingly small, and the actual number to date is zero," he wrote in a blog response.
The investigation was closed in March 2014 after the company agreed to insteall more shields beneath the cars to stop road debris from penetrating the battery.