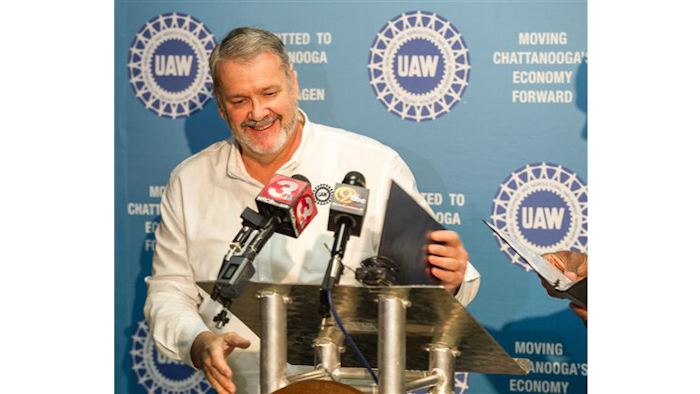 The United Auto Workers union this week filed a complaint with federal labor officials over the recognition of a local chapter at a Tennessee Volkswagen plant.
Skilled-trades workers at the Chattanooga facility earlier this month voted to recognize UAW Local 42 as its collective bargaining representative — an unprecedented step at a foreign-owned auto plant in the American South.
But those employees comprise just more than 10 percent of the plant's 1,400 hourly workers, and Volkswagen instead called for a union that represented all employees.
Volkswagen vowed to appeal the certification vote; the UAW alleged in its filing to the National Labor Relations Board that VW declined to recognize the union or engage in bargaining.
"By refusing to engage in collective bargaining after a successful election, Volkswagen is not only doing a disservice to its employees but now is thumbing its nose at the federal government as well," said UAW Secretary-Treasurer Gary Casteel.
The NLRB filing is just the latest development in a long-running campaign to organize workers at southern auto plants — and the Chattanooga plant in particular.
An initial certification vote involving all plant employees narrowly failed in 2014 amid intense political opposition. A subsequent federal filing, however, indicated that the UAW had gained the support of a majority of the workforce.
The vote by the skilled-trades workers followed an NLRB decision that allowed multiple bargaining units — or what critics call "micro-unions" — in a single workplace. Nashville labor attorney Bill Ozier told the Associated Press that the NLRB, which is controlled by Democrats, is unlikely to overturn the results of the latest vote.
Local 42 President Mike Cantrell, meanwhile, said after the skilled-trades vote that he expects the union to eventually represent all Chattanooga employees.