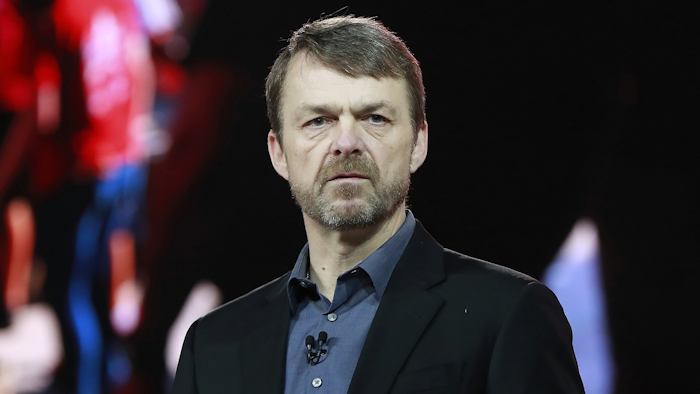 Fiat Chrysler's second-quarter earnings presentation was meant to celebrate long-time CEO Sergio Marchionne's achievement of eliminating all debt for the formerly troubled company. Instead, it will be overshadowed by his early and sudden exit for serious health problems and the debut of his replacement, Mike Manley.
Credited with the turnaround of the Jeep subsidiary, Manley faces his first big test as the group CEO on Wednesday, when he lays out the Italian-American automaker's earnings and takes questions from analysts likely to focus on how he will manage hard-earned growth and profitability.
Max Warburton, an analyst at research firm Bernstein, said the 54-year-old British manager's outing would be "a difficult baptism." The financial community, he noted, had assumed Marchionne would keep a hand in the business, perhaps as chairman "to phone in his instructions."
The uncertainty created by Marchionne's sudden exit was evident in volatility in the share price Monday, when the stock opened sharply lower only to recover. By Tuesday, its losses were fully recouped. Manley then got a vote of confidence from ratings agency Standard & Poors, which said Fiat Chrysler's BB+ credit grade and positive outlook remained unchanged by the change in CEO.
For the stock, Warburton said "2019 should be a solid year. ..... But long-term concerns will build." He noted Marchionne had close control of all aspects of the company, so it's unclear how the leadership change might affect that.
Fiat Chrysler's second-quarter net income is expected to come in at 1.28 billion euros, which would be an 11 percent increase over the same period last year, according to a survey of analysts by financial data company FactSet. Sales are expected to have risen 3 percent to 28.87 billion euros.
And it will be Manley who will confirm the achievement of zero debt, announced last month by Marchionne. Marchionne remains hospitalized in Zurich, Switzerland, after his health deteriorated suddenly due to undisclosed complications from surgery on his right shoulder. No details have been disclosed, but Fiat Chrysler Chairman John Elkann has made clear that his condition precludes a return.
Manley's experience in the United States, where Fiat makes three-quarters of its profits, was key to his nomination.
While Marchionne was the most public face of Fiat Chrysler for the last 14 years, with trusted executives operating mostly behind the scenes, Manley played a key role in both drafting and presenting a new five-year business plan that foresees Jeep and Ram, the two brands he ran, as the growth-drivers. The plan calls for 9 billion euros in investments as the carmaker tries to catch up in the market for gas-electric hybrids and fully electric vehicles.
"Mike Manley has extremely strong credentials to run a global automaker in technological and strategic transition," Morgan Stanley analyst Adam Jonas said. He noted Jeep's global expansion, four-fold jump in sales volumes and the doubling of its product lineup since Manley took over in 2009.
Manley's biggest challenges will be to continue Marchionne's efforts to find industrial partners — which the former CEO repeatedly said was needed to bring down costs — and to expand into new technologies, like automation, Jonas said. Manley will also oversee the planned spin-off of components business Magneti Marelli, announced earlier this month.
Jonas noted that Marchionne continually dismissed concerns that his involvement in all strategy would hamper succession, referring to "the deep bench of talented leader he had groomed over the years."
"Investors must decide if the next generation can carry the legacy," Jonas said.