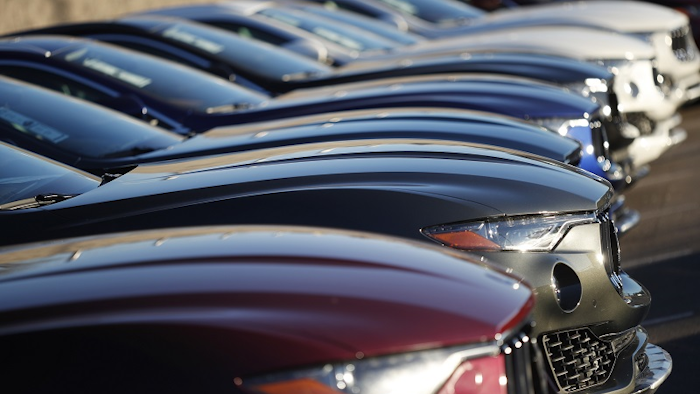 Early reports from appear to confirm expectations that auto sales tailed off in February as automakers eased up on discounts.
Auto forecasting firm LMC Automotive predicts a 2 percent drop from last February for what is normally one of the weakest sales months of the year. Others forecast an even steeper decline. Most automakers report February sales on Thursday.
LMC said average discounts per vehicle during the first three weeks of February fell $14 to $3,840, the first year-over-year decline since 2013. That's largely because Detroit automakers reduced spending on SUVs and pickup trucks. The cuts improve automakers' profitability, but they could hurt sales.
"Aggressive incentives generally only pull forward existing demand, and automakers seem to be learning the lesson that you can only borrow so much from the future before you end up paying for it," Jessica Caldwell, Edmunds.com executive director of industry analysis, said in a statement. (Edmunds regularly provides content, including automotive tips and reviews, for distribution by The Associated Press.)
Although consumer confidence is high and unemployment is low, rising auto interest rates and a glut of late-model used cars coming back to the market from leases likely will cut into new-vehicle sales, analysts say. But recent tax reform measures that will put more money into some people's paychecks could spark sales as the spring auto-buying season arrives.
Here are some details regarding February sales:
— General Motors Co. sales fell just under 7 percent. Sales were dragged down by the Chevrolet Silverado pickup truck, GM's top-selling vehicle. Silverado sales were off more than 16 percent from a year ago. GM said that in February of 2017 the company had record sales of SUVs and pickup trucks. GMC and Chevrolet sales were down but Buick and Cadillac sales rose.
— Ford Motor Co. sales also fell 7 percent for the month. Ford said its car and SUV sales were down but sales of the F-Series pickup — its biggest seller — inched up 3.5 percent. Ford brand sales were down 6 percent while luxury Lincoln sales plummeted 23 percent.
— Fiat Chrysler's sales fell 1 percent. Jeep brand sales jumped 12 percent and Alfa Romeo sales were also up, but Ram truck sales dropped 14 percent because of a drop in fleet buyers. Chrysler, Dodge and Fiat sales also fell on low consumer demand for cars.