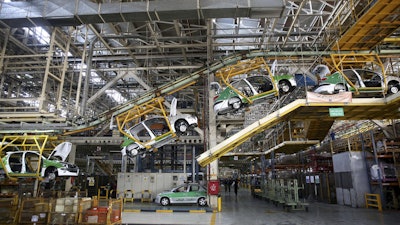 French carmaker Renault said Friday that half of its models will be electric or hybrid by 2022 and it's investing heavily in "robo-vehicles" with increasing degrees of autonomy.
A strategic plan released Friday aims to boost Renault annual revenues to 70 billion euros ($82.2 billion) by 2022 from 51 billion euros last year, in part through an effort to double sales outside its traditional markets in Europe — especially Russia and China.
The plans reflect the vision laid out last month by the Renault Nissan Mitsubishi alliance, the world's No. 1 carmaker by sales. Many of Renault's new aims depend on saving money through sharing platforms and development with Nissan and Mitsubishi.
CEO Carlos Ghosn said Renault is aiming to sell more than 5 million vehicles annually by 2022 from 3.2 last year
As regulators crack down on emissions from combustion engines and as drivers seek cars that can do more by themselves, Ghosn wants to position Renault as a major player in mass-market electric and driverless cars.
"We are confident we can turn upcoming ... challenges into significant business opportunities for Renault," he said.
The company pledged to offer eight purely electric vehicle models and 12 hybrid models by 2022, compared with its 19 diesel or gasoline models sold worldwide, Ghosn said.
The announcements come as the world's major carmakers are rethinking their strategies to profit from pivotal changes in the industry: autonomous cars, connected cars that share data, car-sharing where you don't own a vehicle but order one by app, and low-emissions vehicles demanded by the European Union to fight climate change and by China, where many cities are fighting rampant pollution.
Renault is aiming to produce 2 million cars per year outside Europe compared with 750,000 cars in 2016, with a heavy push in Russia.
Overall, Ghosn said Renault would retrain 13,000 people over the next five years to adapt to changing markets.