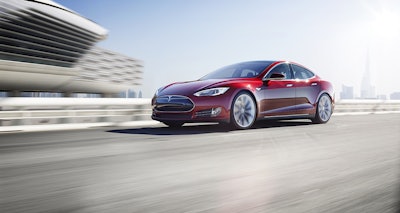 A top car dealer executive suggested this week that growing competition in the electric vehicle segment would eventually temper Tesla's stock price.

Mike Jackson, the chief executive of dealership chain AutoNation, told The Wall Street Journal that Tesla was overvalued — and General Motors, by contrast, undervalued — after the former briefly eclipsed GM to become the most valuable U.S. automaker in trading early this week.

Tesla reported record production and deliveries in the first quarter of 2016, which prompted a rally in its stock price as the electric vehicle maker prepares to introduce its first mass-market vehicle later this year

Analysts, however, expect Tesla to once again report a quarterly loss for the first three months of the year. CEO Elon Musk argues that the company will improve profits as it makes and sells more cars, but Jackson predicted that it would continue to struggle.

Tesla sells its luxury electric vehicles directly to car buyers — bypassing dealerships — and plans to dramatically increase production with the introduction of the cheaper Model 3 sedan.

Jackson credited Musk for building a "cult-like following" — more than 300,000 people pre-ordered the Model 3 —but he said that selling cheaper vehicles wouldn't alleviate its cost issues.

GM and other conventional automakers, meanwhile, are rapidly building up their capability to build electric vehicles.

"What would impress me about Tesla? Selling vehicles at a profit," said Jackson, who predicted that Tesla would either fulfill investor expectations or become "one of the great Ponzi schemes of all time."

Musk, for his part, taunted investors who bet against his company as it passed Ford in market value.

"Stormy weather in Shortville," he wrote on Twitter.