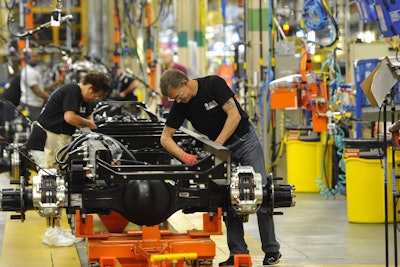 The nation's largest automakers reported mixed 2016 sales totals in their latest monthly numbers released Wednesday.

Nissan and Honda each reported record U.S. sales last year, while Ford and Fiat Chrysler domestic sales remained largely flat and General Motors and Toyota saw declines.

Both Nissan and Honda set their previous records in 2015. Nissan sales climbed by 5.4 percent in 2016 compared to the previous year while Honda's total increased by 3.2 percent over that span.

Nissan models saw sales grow by 5.5 percent as its Infiniti luxury brand increased by 3.6 percent. Honda's luxury brand Acura sold nearly 9 percent fewer cars last year, but the 4.8 percent increase by its flagship cars more than made up the difference.
Ford sales declined slightly last year, but its Lincoln brand grew by double-digits. Its overall sales fell by just 0.1 percent.
Fiat Chrysler, meanwhile, sold slightly more vehicles with the help of a 6 percent sales gain by its Jeep brand and an 11 percent gain among Ram trucks. Its Dodge brand fell by 4 percent and its flagship brands each declined by more than 20 percent.

GM sales fell by 1.3 percent as only its Buick brand registered an increase compared to 2015. Chevrolet — by far its largest brand — declined by 1.4 percent, while GMC and Cadillac fell by 2.2 percent and 3 percent, respectively.

Toyota sales declined by 2 percent, with lower numbers for both its flagship brand and the Lexus brand.

Those six companies accounted for more than 75 percent of the U.S. auto market in November, according to The Wall Street Journal.

Analysts expect overall auto sales to narrowly edge last year's record, the Associated Press reports.