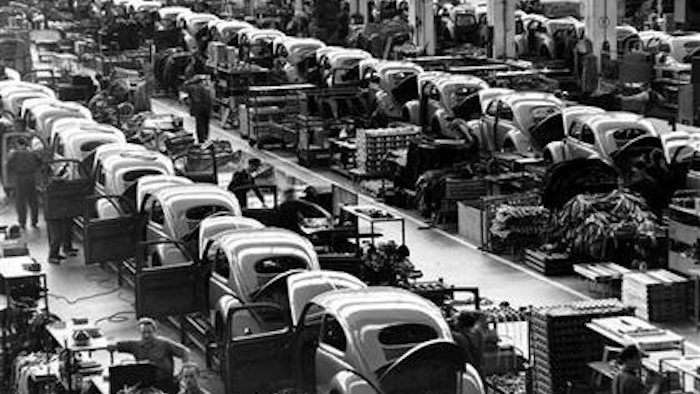 The future of Volkswagen CEO Martin Winterkorn hung in the balance Wednesday as the company sought to contain the damage of an emissions-rigging scandal that could lead to fines and lawsuits against the German carmaker.
After falling by 37 percent in two days since the revelation Volkswagen had been trying to dupe U.S. testers for its diesel cars, the company's share price recovered modestly.
It was up 3.4 percent at 115 euros after declines this week that saw nearly 25 billion euros (around $28 billion) wiped off the company's market value.
So far, no one is known to have lost their job over the scandal that's been raging round the company since the Environmental Protection Agency disclosed the company's misdemeanors last Friday.
The person facing the most acute pressure is Winterkorn, whose contract was scheduled to be extended by two years through 2018 at a meeting this Friday of the supervisory board.
But the events of recent days have raised questions over his future. German media were widely reporting that the board's executive committee was meeting Wednesday to discuss the crisis.
The Environmental Protection Agency has said Volkswagen AG could face fines of as much as $18 billion. Other countries, such as South Korea, have also ordered investigations into emission levels of VW cars and some law firms in North America have filed class-action suits.
On Tuesday, Volkswagen said 11 million of its vehicles worldwide contained the so-called "defeat device" that allowed the cars to beat the testers. Its revelation was a stunning increase from the 482,000 cars previously identified by the U.S.'s Environmental Protection Agency.
CEO Winterkorn said he was "endlessly sorry" and asked in a video message for "your trust on our way forward." However, that has done little to douse speculation about his future.
VW has yet to explain who installed the software, under what direction, why and who knew about it. Winterkorn said Tuesday that he doesn't yet have all the answers himself, but also that it would be wrong to cast doubt on the work of the whole workforce "because of the grave mistakes of a few."
The deputy leader of Germany's IG Metall industrial union, Joerg Hofmann, cautioned against premature personnel decisions and said that "all the facts must be on the table first." He told news agency dpa he hopes "that diesel technology as a whole will not be damaged."
On Tuesday, New York Attorney General Eric. T. Schneiderman said he had opened an investigation into the Volkswagen cars and would collaborate with other states to enforce consumer and environmental protections in the case.
Volkswagen has set aside an initial 6.5 billion euros ($7.3 billion) to cover the fallout and "win back the trust" of customers, though it didn't mention possible fines.
Beyond legal issues, the scandal is a huge problem for a brand long identified with trustworthiness and reliability. And there are concerns that could spill over into a wider image problem for goods "made in Germany."
The head of the German exporters' association, Anton Boerner, urged Volkswagen to put the facts on the table quickly. "Whether collateral damage arises for the image of German products also depends on that," he told Germany's Bild daily.
He added, however, that the good image of German goods "is rooted in excellent products from thousands of companies and, thank God, does not depend on a single company. We should keep a sense of proportion here."
Another question arising from the scandal is whether Volkswagen was alone in looking to dupe the testers. Worries that others may have indulged in similar malpractices have hit the share prices of many other auto makers in Europe, though not on the scale of VW.
On Wednesday, other European carmakers saw their share prices fall sharply then recoup some lost ground. In midday trading, BMW's share price was up 0.5 percent, while Daimler's rose 0.8 percent. French carmakers Peugeot Citroen and Renault fared worse though, with both seeing 2.6 percent declines.
"Dealers despise being kept in the dark, and the carmakers as a whole will be a sector to swerve until there is a conclusion to this saga," said David Madden, market analyst at IG.
The problems afflicting German carmakers prompted the country's biggest bank, Deutsche Bank, to revise down its view on the main German stock market.
In a note to clients, the bank revised down its forecast for the DAX, as carmakers account for 25 percent of its total value. It warned of "a potentially more sustained loss in brand value and prolonged recovery period ahead in the U.S."