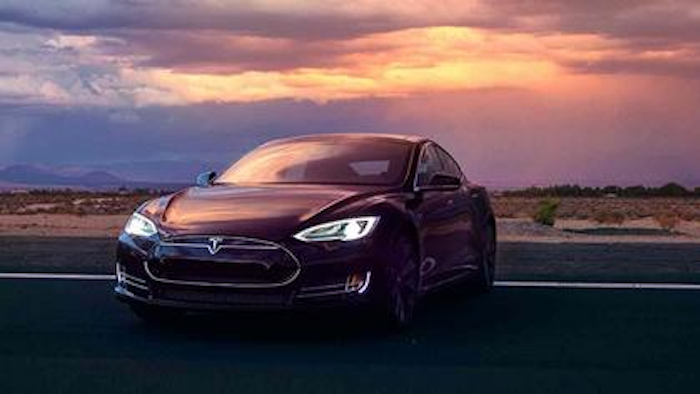 Tesla's Model S P85D just made history. Today, Consumer Reports said that the electric sedan performed better than any other car the magazine has ever tested.
The luxury car also shattered the Consumer Reports' Ratings system by initially scoring 103 out of 100.
"The car set a new benchmark, so we had to make changes to our scoring to account for it," stated the article.
The Tesla had to settle for a perfect score of 100 instead.
Consumer Reports said the Model S P85D received a perfect score, in part, because of the "insane mode" function, which brings the car's acceleration on par with a supercar — the car hit 60 mph in 3.5 seconds.
CNBC reached out to Tesla for a comment. In response, Tesla spokesperson Khobi Brooklyn said, "The Model S being the first car to receive 100 out of 100 points is truly a testament to our commitment to continually give our customers enhancements in range, performance and value, and ultimately a better driving and ownership experience."
Tesla CEO Elon Musk also retweeted the news to his 2.53 million followers, no doubt elated.
Breaking: Tesla P85D is the best car we've tested in 80 years of testing cars #carofthefuture http://t.co/mwDM9dAXj3 pic.twitter.com/UlA0uwjWQN

— Consumer Reports (@ConsumerReports) August 27, 2015
To watch the Model S P85D's road test from Consumer Reports, click here.
Do you think that the Tesla Model S P85D deserved a perfect score? Comment below or tweet me @MNetAbbey.