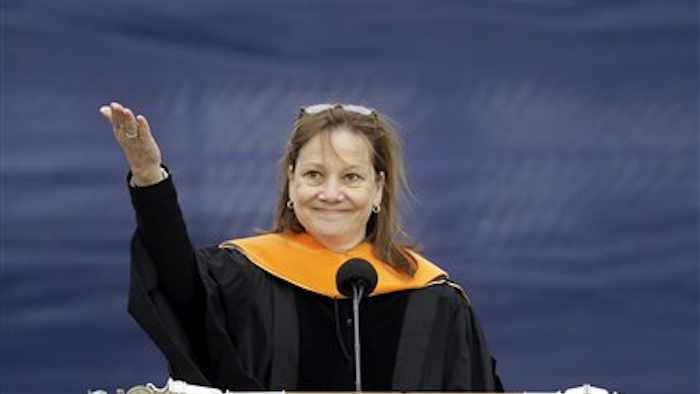 Check out some of this week's top headlines from across Manufacturing.net, from GM's CEO telling students to fix problems quickly to imported products and the American jobs they support.
Obama Climate Rules Can't Wait Until After Election
WASHINGTON (AP) -- Within weeks, President Barack Obama's administration is set to unveil unprecedented emissions limits on power plants across the U.S., much to the dismay of many Democratic candidates who are running for election in energy-producing states. Fearful of a political backlash, they wish their fellow Democrat in the White House would hold off until after the voting.
But Obama can't wait that long.
Unlike the Keystone XL oil pipeline, whose review the administration has delayed, probably until after November's elections, the clock is ticking for the power plant rules — the cornerstone of Obama's campaign to curb climate change. Unless he starts now, the rules won't be in place before he leaves office, making it easier for his successor to stop them. Continue reading...
---
What Does 'Made In America' Really Mean?
Imported products sold in the United States, from clothing to cars, contain far more U.S. parts or other value, and support significantly more American jobs than consumers or policymakers realize, according to a new report prepared for the National Retail Federation.
Obviously the global economy is not as black-and-white as it's often portrayed. For example, "foreign" car manufacturer Toyota claims to have created 365,000 jobs in the U.S. as of 2012. "Made in America" automotive can be particularly fuzzy when you consider the number of assembly plants and OEM suppliers who participate in the development and production of vehicles sold on American soil."This report looks at retailers' worldwide sourcing of merchandise not just as a global supply chain but as a global value chain," NRF President and CEO Matthew Shay said in a press release. "It shows the value added at each step along the way, not just in manufacturing but from the initial concept to the finished product. Even in a product that says 'Made in China,' much of what goes into that product is 'Made in America.' That means millions of American jobs for American workers regardless of what the label might say." Continue reading...
---
Fed Climate Report To Present Dire Picture
WASHINGTON (AP) -- The Obama administration is more certain than ever that global warming is changing Americans' daily lives and will worsen — conclusions that scientists will detail in a massive federal report to be released Tuesday.
Once people thought global warming was more in the future and more of an issue in other parts of the world, but the National Climate Assessment will emphasize how the United States is already paying the multibillion-dollar price for man-made climate change, said study co-author Donald Wuebbles, a climate scientist at the University of Illinois.
"We're already seeing extreme weather and it's happening now," Wuebbles said Monday. "We're seeing more heat waves, particularly in the West and in the South." Continue reading...
---
Another GM Engineering Exec Retires
DETROIT (AP) -- Another high-ranking General Motors engineer is leaving the company in the wake of its delayed recall of small cars with faulty ignition switches.
Jim Federico, who most recently headed safety, vehicle performance and testing labs, is retiring after almost 36 years with the company. GM said he's leaving on his own to work outside the auto industry.
Federico was GM's highest-ranking executive with safety in his title in February, when the company began recalling 2.6 million older-model small cars to replace the defective ignition switches. He was also the chief engineer for global small cars in 2010, and was involved in an internal investigation into the faulty switches. Continue reading...
---
GM CEO Tells Students To Fix Problems Quickly
ANN ARBOR, Mich. (AP) -- Work hard, be honest and address problems quickly so they don't grow.
That is the message that new General Motors CEO Mary Barra gave University of Michigan graduates at a commencement ceremony Saturday.
Barra, the first woman to lead a major automaker, took the top spot at GM in January, just as a deadly ignition switch problem was starting to surface. Her company has recalled 2.6 million older small cars to fix the switches, which have been linked to crashes causing at least 13 deaths. GM has admitted knowing about the problem for more than a decade, yet it didn't start recalling the cars until February. Barra testified before two congressional committees that she didn't know about the problem until December.
The recall wasn't mentioned in a speech prepared for the ceremony and released in advance by GM. But there were several lessons that seemed to apply to her first four months leading the nation's largest automaker. Continue reading...
---
Fracking Boom Has Deadly Side Effect
CLARKSBURG, W.Va. (AP) -- Booming production of oil and natural gas has exacted a little-known price on some of the nation's roads, contributing to a spike in traffic fatalities in states where many streets and highways are choked with large trucks and heavy drilling equipment.
An Associated Press analysis of traffic deaths and U.S. census data in six drilling states shows that in some places, fatalities have more than quadrupled since 2004 — a period when most American roads have become much safer even as the population has grown.
"We are just so swamped," said Sheriff Dwayne Villanueva of Karnes County, Texas, where authorities have been overwhelmed by the surge in serious accidents. Continue reading...
Every Friday, we will be rounding up the most popular news items of the week based on site traffic. Feel free to share your thoughts, questions or concerns by sending an email to amy.lawrence@advantagemedia.com.