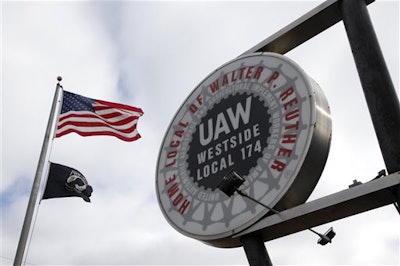 NASHVILLE, Tennessee (AP) -- Volkswagen would become a "laughingstock" if it goes through with a deal to have the United Auto Workers represent workers at its Tennessee plant, U.S. Sen. Bob Corker said Tuesday.
The Tennessee Republican told The Associated Press in a phone interview that he was dismayed when VW last week sent a letter to employees regarding its discussion with the UAW about creating a German-style works council at the Chattanooga plant.
"For management to invite the UAW in is almost beyond belief," Corker said. "They will become the object of many business school studies — and I'm a little worried could become a laughingstock in many ways — if they inflict this wound."
Corker, who played a large role in persuading Volkswagen to build its lone U.S. assembly plant in the city where he was once mayor, said he hopes the company pulls back from its decision to engage in talks with the UAW.
"We've talked to management, and to me it's beyond belief that they've allowed this to go that far and displayed this kind of naivety that the UAW is somehow different than they were years ago," Corker said.
The Wolfsburg, Germany-based company has faced pressure from labor representatives on its supervisory board, who have called it unfair for the company to deal with organized labor at every one of its major facilities around the world except for at its U.S. plant.
"The Volkswagen Group respects the employees' right for an employee representation on plant level at all locations worldwide," the letter from the plant managers said. "This certainly also applies to the Chattanooga plant."
The UAW's top organizing official in Tennessee, Regional Director Gary Casteel, called Corker's comments "ludicrous" and said Volkswagen wants the works council because its other factories have been successful due to collaborative relationships between management and workers.
According to VW's letter to the workers, the discussion with the UAW is necessary because a works council can only be established in the United States through an established trade union. Some experts have disputed whether that's a requirement, and politicians such as Corker have suggested the UAW should be left out of a works council at the plant.
"There's plenty of unions other than the UAW," he said. "Why would they choose one that has created such a mentality in these plants of us-versus-them?"
Corker said the Southeast would become less attractive to foreign automakers if the UAW gains a foothold, adding that he worries that Volkswagen would become less competitive if the UAW represents workers at the plant
"It's still incomprehensible to me that they would be where they are," he said. "I'm discouraged and I do hope they will pull back from this."
Casteel responded that Ford Motor Co. has continued to invest millions at factories in Louisville, Kentucky, where thousands of workers are represented by the UAW, and Ford has prospered as well. The UAW isn't viewed as a problem in attracting investment to the Louisville area, he said. "Nobody in Kentucky is saying that having that Ford facility in Louisville is causing them any economic hardship," Casteel said.
Entry-level workers at Volkswagen's plant in Chattanooga earn $15 an hour, which is similar to the starting income of UAW workers at GM, though the current contract imposes a cap of 25 percent of workers making that wage by 2015.
AP Auto Writer Tom Krisher contributed to this report from Detroit.