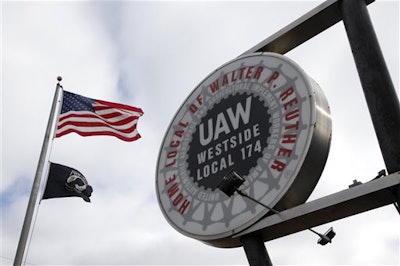 CHATTANOOGA, Tennessee (AP) -- The prospect of the United Auto Workers gaining a foothold at Volkswagen's plant in Tennessee worries some U.S. Southern politicians, who say laws banning mandatory union membership have helped lure foreign automakers.
But Volkswagen faces pressure from labor interests on its supervisory board to grant workers a stronger voice at the plant. And Handelsblatt, a German business newspaper, reported Monday that UAW President Bob King and five other officials discussed the Tennessee plant with the company's employee relations chief last week at VW's headquarters in Wolfsburg.
Tennessee Gov. Bill Haslam warned Tuesday his state's prospects could suffer if the UAW succeeds in representing workers at Volkswagen's lone U.S. assembly plant in Chattanooga. It's an argument that many Southern politicians have made, fearing that union representation would deter businesses — and badly needed jobs — from coming to their respective states which are generally less industrially developed.
"We have heard from other folks that we're recruiting that that would be dampen their enthusiasm with Tennessee," Haslam said.
Volkswagen has declined to comment on about reports that the company is meeting with the UAW. But Jonathan Browning, Volkswagen Group of America's president and CEO, said Wednesday that labor questions will be left to workers at the plant.
"It may or may not result in third party representation," he told analysts, according to a spokesman. "Ultimately (it's) up to the employees. That hasn't changed."
The UAW, faced with shrinking employment rolls at General Motors, Ford and Chrysler, has repeatedly said it's going to redouble its efforts at non-unionized plants operated by foreign-based firms in the South, generally hostile turf for unions, but has failed so far to make inroads. The companies have fended off the union by offering competitive wages and benefits.
German law gives labor representatives half the seats on the Volkswagen's supervisory board, where some members have raised concerns about the Chattanooga plant being alone among the company's large factories without formal labor representation.
That has led some to look toward creating a German-style works council, where elected labor representatives are given a voice in plant management.
Gary Chaison, a professor of labor relations at Clark University in Worcester, Massachusetts, said it would take "tremendous flexibility" for the UAW to agree to a works council that falls short of traditional collective bargaining.
"Some people will see this as unions getting a foot in the door and asking for more," he said. "But some within the labor movement would say we've got the wrong foot in the wrong door, and we should be trying for collective bargaining and nothing more."
While a decision on whether to organize is up to the plant's workers — and even then it's not clear if there is much interest among the rank and file — Volkswagen has sought advice from politicians like Republican U.S. Sen. Bob Corker, who played a large role in persuading VW to build the plant in the city where he was once mayor.
A vocal opponent of the UAW, he has feuded publicly with the union since pushing for wage and benefit concessions for union workers as part of the government bailout of automakers in 2009. Corker maintains that his role in the discussions helped the auto industry emerge from the economic crisis in stronger shape.
He said he urged Volkswagen to discourage workers from choosing the UAW to represent them, and argued that potential investors in Tennessee have already been scared off by the possibility of the union gaining wider influence.
Other German automakers like BMW, which has a plant in Spartanburg, South Carolina, and Daimler, which builds Mercedes vehicles in Vance, Alabama, have a corporate structure similar to Volkswagen's and could face some of the same internal labor pressures.
Alabama's Republican Gov. Robert Bentley recently said a union at the Mercedes plant would be counterproductive.
Associated Press Auto Writer Tom Krisher in Detroit contributed to this story.