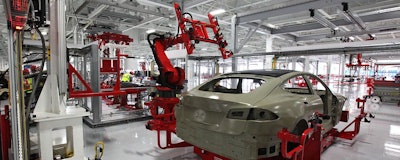 Having been behind schedule in the production ramp-up for the Model 3 pretty much since day one, Tesla's vehicle output has shown signs of significant improvement in the first six months of 2018. As the company announced on Monday, the electric car maker produced a total of 53,339 vehicles in the past quarter alone, beating its annual production total for 2015 and more than doubling its output compared to last year's second quarter.

Most notably, Tesla's production of the supposed mass market Model 3 exceeded the combined Model S and Model X production for the first time in Q2, reaching the milestone of 5,000 Model 3s a week by the end of the quarter. The following chart illustrates how big a step forward that is for Tesla, notwithstanding the fact that its output is still miniscule compared to that of traditional carmakers.

In 2017, Tesla built roughly 100,000 cars, which is less than one hundredth of the production volume of Volkswagen, the world's biggest carmaker.
You will find more infographics at
Statista