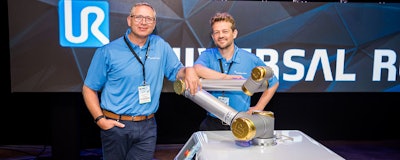 Odense, Denmark — When Linatex, a Danish supplier of technical plastics and rubber for industrial applications, bought a UR5 robot arm from Universal Robots (UR) to automate CNC machine tending in December 2008, they did something unthinkable. Instead of installing the robot behind safety caging, fenced off from people as was the norm for all industrial robots, they deployed it right alongside their employees. And instead of bringing in external programmers to master complex scripting, Linatex was able to program the robot on their own with no prior programming experience. Today, ten years later, Linatex still uses a cobot from Universal Robots.
UR's co-founder and CTO, Esben Østergaard, delivered the first robot himself after having led a small team through three years of development in a basement at University of Southern Denmark. For his pioneering role in developing cobots, he was awarded the Engelberger Award, the "Nobel Prize" of robotics, earlier this year.
He still remembers the early days in 2008 when the small UR team delivered the first UR5s in Denmark and Germany. "10 years might seem like a long time, and it's definitely been quite a journey; but we've only just started to scratch the surface," says Østergaard. "I continue to see our cobots power new applications that we never imagined when we first launched."
Esben Østergaard and the growing UR team launched the larger model, UR10, in 2012 and the table-top model, UR3, in 2015 — the same year Teradyne saw the company's potential and acquired UR for USD 285 million.
"We've been the frontrunners of collaborative robots since the term was adopted. While safety is imperative, that's simply the cost of entry into the cobot market now," says the UR CTO. "We believe that being collaborative is just as much about being accessible and flexible by placing robots within reach of manufacturers who never thought they could deploy robots due to cost and complexity."
Lowering the Automation Barrier
In 2016 UR launched Universal Robots+, a new platform that leverages the company's innovative global ecosystem by enabling third-party developers to create products – such as grippers, vision systems, software, and other accessories – that are certified to work seamlessly with UR cobots. The UR+ showroom now includes around 130 certified UR+ products and 390+ approved commercial developer companies in the UR+ developer program.
A year later, in 2017, Universal Robots Academy was launched to raise robot literacy. It consists of nine free-of-charge interactive modules of online training in mastering programming, set-up and operation of UR cobots. The program has been widely adopted worldwide, with more than 45,000 users from 130+ countries signed up as modules have become available in eight languages including English, Spanish, German, French, Chinese, Japanese, Korean, and Thai. UR is the only cobot vendor offering robotics training of this caliber for free.
"We are facing a looming skills gap in the manufacturing industry that we need to bridge by all means possible. Facilitating knowledge creation and access to our robots is an important step in that direction," says Østergaard.
Innovation is Imperative
Cobots are now the fastest-growing segment of industrial automation, expected to jump ten-fold to 34 percent of all industrial robot sales by 2025, according to the Robotic Industries Association (RIA). As a first mover UR has kept its market position with a 60 percent global share of the cobot market according to BIS Research, selling more cobots than all competitors combined.
As the cobot market is experiencing an increasing number of competitors – both from the established industrial players and start-ups — it is vital, however, to keep ahead of the curve. In June, UR launched a brand-new generation of its cobots, the e-Series, which is a platform that raises the standard for collaborative robots, and enables even faster solution development and deployment of a wider variety of applications.
"As manufacturers increasingly embrace cobots, we see the need to support even more demanding applications with greater accuracy and tool integration. Launching the e-Series will help us continue propelling cobots forward into new applications benefitting companies of all sizes," says Østergaard.
Last year the company grew 72 percent and earlier this year the company marked its 25,000th cobot sale by delivering a limited edition in gold. To date, the company has sold more than 27,000 cobots around the world.