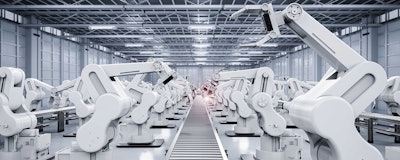 Universal Robots (UR) is hiring more than 20 Rethink staff members, merging UR's Boston office with Rethink's former headquarters in the Seaport area in Boston.
The personnel bring collaborative robotics experience in engineering, product development, and customer applications, which will combine with UR's expertise to continue to drive new and innovative collaborative robotics solutions.
Collaborative robots, now the fastest-growing segment of industrial robotics, is forecasted to grow from $283 million last year to $3.26 billion in 2022, according to BIS Research.
"Rethink Robotics—along with Universal Robots—has been a pioneer in driving and developing the collaborative robotics market globally," Universal Robots' President Jürgen von Hollen said. "The company was always a good competitor, which helped us drive cobot awareness worldwide, and we want to make sure its customers can continue to fulfill their collaborative automation initiatives."
(Source: Universal Robots)