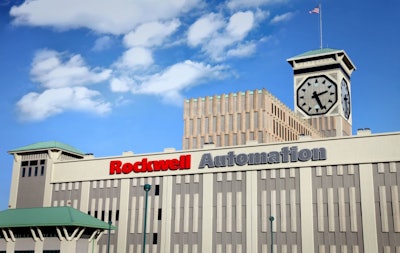 Smart manufacturing and communication between systems were high priorities at Rockwell Automation's Automation Fair, held in Philadelphia Nov. 14 and 15. Rockwell's FactoryTalk suite of data management dashboard software typically comes packaged with other Rockwell products, and includes features such as analytics and workflows for factory monitoring. At Automation Fair, software company PTC and Rockwell announced the joint launch of FactoryTalk innovation Suite, the first collaboration to use technologies from both companies.
Rockwell Automation invested $1 billion in PTC this past June.
The collaborative package includes FactoryTalk Analytics and MOM platforms, ThingWorx, and Vuforia, an augmented reality solution for service and training. It uses multiple sources from both IT and OT to give a top-down view of the overall operations of a facility or multiple facilities, and provides automated advanced analytics of performance and possible failure points. For example, Rockwell Automation says, Vuforia can be used to send digital failure reports with real-time performance included.
"Manufacturers have seen digital technology rapidly change, but their execution continues to follow practices established for the legacy business. This bundled offering will help organizations accelerate time to value and reinvent how they compete by breaking down barriers across their operations through a comprehensive approach to operational intelligence," said Catherine Kniker, head of strategic alliances, PTC, in a press release.
"Our offering is unique in its ability to improve how companies capitalize on the IIoT by combining expertise from industry, technology, and plant-floor professionals," said John Genovesi, incoming senior vice president, Enterprise Accounts & Software, Rockwell Automation.
At the Automation Fair, Rockwell and PTC demonstrated a variety of cases in which PTC's software was paired with Rockwell's wide selection of products, including motion control, controllers, and drives. PTC also demonstrated a potential augmented reality (AR) application that paired FactoryTalk with an AR home automation project owned by PTC.