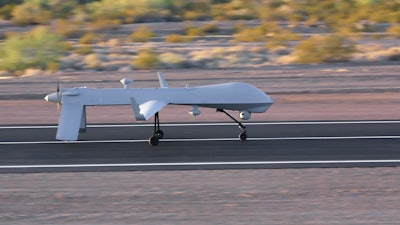 U.S. Air Force Secretary Heather Wilson was in North Dakota to commemorate the launch of the first large drone to fly beyond sight of the pilot and without a manned airplane to observe the plane.
The flight was conducted Monday by General Atomics Aeronautical Systems Inc., which is a tenant at the Grand Sky aviation technology park. A recent authorization by the Federal Aviation Administration allows the drones to fly within 30 miles of the park.
Political leaders from the state called the flight a historic milestone that shows North Dakota's standing in the unmanned aircraft industry.
Wilson was previously the president of the South Dakota School of Mines and Technology.