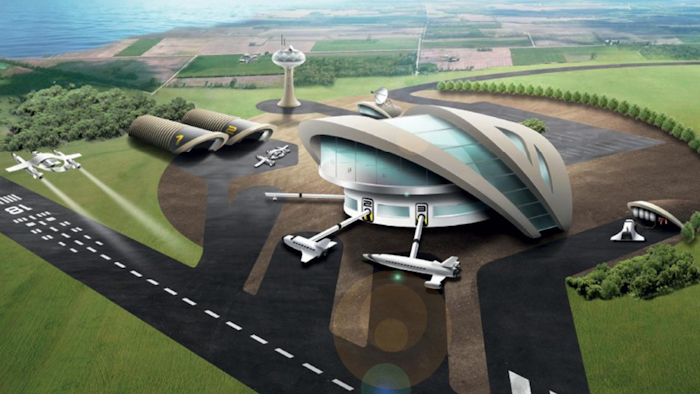 A new law in the United Kingdom will allow commercial satellite launches from a space facility within the country. Currently, British space efforts must be launched elsewhere.
The Space Industry Bill received Royal Assent on Thursday, making it law.
The location of a possible British spaceport has not yet been set. The government identified eight potential locations when the process began in 2014, including one in England, one in Wales, and six in Scotland at the sites of Royal Air Force airfields.
"The Space Industry Bill gives companies the ability to launch satellites from UK soil, putting us at the forefront of the new space race, and helping us to compete as the destination of choice for satellite companies worldwide," said Transport Minister Jo Johnson in an official statement.
Concept art for a UK spaceport show a facility with horizontal runways for high-altitude planes, from which satellites can be launched in the air, instead of vertical launch pads. 
"Through the government's ambitious Industrial Strategy, we are working with the sector to pursue pioneering commercial space opportunities, including developing new technologies, infrastructure, and services. This will open up the UK to new frontiers, transforming the way we live, and establishing us as a space flight leader," said Science Minister Sam Gyimah.
The Space Industry Bill and other space-related projects announced as part of UK Space Agency programs are also part of an effort to open more STEM jobs in the UK.
"The Space Industry Bill guarantees the sky is not the limit for future generations of engineers, entrepreneurs, and scientists," said Graham Turnock, chief executive of the UK Space Agency.