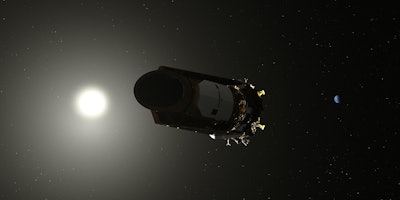 The Kepler space telescope has almost reached the end of its life, predicted to run out of fuel in several months. On Wednesday NASA looked back on the possible failure the telescope narrowly avoided in 2013, in which a second reaction wheel broke and skewed it away from the direction it was intended to view. By aligning it using the pressure of sunlight, the team redirected the telescope and resumed operations with a view of a different part of the sky.
Kepler has been in flight for nine years, examining distant stars in search of planets outside the Solar System. In that time it has discovered more than 4,500 confirmed and suspected planets, as well as provided new data on the evolution of stars and planetary systems.
"The Kepler team is planning to collect as much science data as possible in its remaining time and beam it back to Earth before the loss of the fuel-powered thrusters means that we can't aim the spacecraft for data transfer. We even have plans to take some final calibration data with the last bit of fuel, if the opportunity presents itself," Charlie Sobeck, system engineer, wrote.