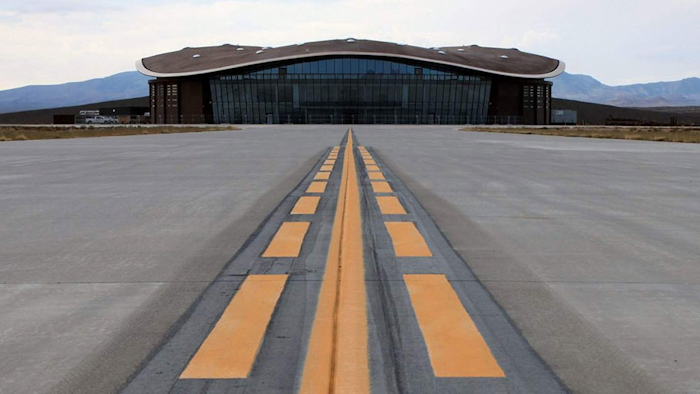 SANTA FE, N.M. (AP) — New Mexico lawmakers rallied Friday around a proposal to provide greater confidentiality for aerospace companies working out of a taxpayer-funded space launch facility in southern New Mexico, over the objections of open-government advocates.
A Senate panel unanimously endorsed a bill that would provide exceptions to state open-records law for information about tenants at Spaceport America. The legislation broadens the definition of trade secrets that are exempt from public disclosure, adding information tied to business operations at the launch facility overseen by the state-funded New Mexico Spaceport Authority.
Managers of the Spaceport America hangar, testing facilities, rocket launch pad and specialized runway say greater confidentiality provisions are needed to compete for new aerospace-industry tenants against competition from a growing list of government-subsidized launch facilities.
Spaceport America CEO Dan Hicks said the secrecy provisions are in the best interest of taxpayers who want to see a return on state investments of more than $200 million in the facility.
"There are technologies that are being developed that don't exist anywhere else in the world today," he said. "The customer that gets that to market first without anybody knowing has a huge market share."
Pressed by a lawmaker for examples of prospective tenants that may have objected to New Mexico's open-records requirements, Hicks pointed to online search giant Google and said the company did not want its name to be known.
He said another company took its business to Virginia Space to guard its name from disclosure. Hicks declined to name that company.
New Mexico Foundation for Open Government President Greg Williams said the level of secrecy provided by the bill is unwarranted. He said the proposal could prevent the public from knowing the names of people doing business with the New Mexico Spaceport Authority.
"We don't think the Spaceport has justified the need for that here," he said.
Under the bill, "the Spaceport has a level of secrecy that is not afforded to any other state agency in New Mexico," he said.
He said changes to the proposal, based on previous criticism, only made the provisions of the bill more broad and vague.
The spaceport's main tenant is Virgin Galactic, whose efforts to open up suborbital flights to passengers was set back years by a midflight failure over California in 2014 that left a test pilot dead.
The company is working toward power test flights of a new vehicle that would shift more personnel and operations to New Mexico. Unmanned rocket launches are routine at the spaceport.
Republican Sen. Bill Payne of Albuquerque enthusiastically endorsed the bill, marveling at the achievements of the private space industry with the recent launch of SpaceX's Falcon Heavy rocket in Florida.
"We've got a lot of heavy lifting to do in this state to compete for that kind of activity," he said. "We certainly don't want to disadvantage ourselves."
Other lawmakers expressed reservations — and endorsed the secrecy bill anyway.
Democratic Sen. Cisco McSorley of Albuquerque raised the specter of chemical spills and public questions about hazardous materials at the spaceport, and said he wished the bill deferred explicitly to existing regulations.
He said the director of Spaceport America is in a "conflicted situation" of divided loyalty between business interests and answering to the general public.