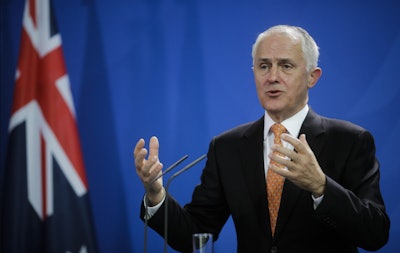 Australia announced on Monday it will create its own space agency to increase its share of the $330 billion space economy.
Prime Minister Malcolm Turnbull said the agency would be part of Australia's development of an innovation and science economy. But the government has provided few specifics.
"It's a small agency to coordinate and lead," Turnbull told reporters. "The space sector, of course, is one of enormous potential."
Acting Minister for Industry, Innovation and Science Michaelia Cash said the agency's charter would be developed by the end of March.
"The global space industry is growing rapidly and it's crucial that Australia is part of this growth," Cash said in a statement.
"A national space agency will ensure we have a strategic long-term plan that supports the development and application of space technologies and grows our domestic space industry," she added.
The opposition Labor Party said such an agency was needed to increase Australia's share of a global space economy from less than 1 percent of what the government estimates is worth $330 billion.
Labor said Australia and Iceland were the only countries in the 35-member Organization for Economic Cooperation and Development that do not have a space agency.
Australia in 1967 became one of the first countries to launch a satellite and images of astronaut Neil Armstrong's first steps on the moon were transmitted by NASA's Honeysuckle Creek tracking station in Australia.
But successive governments have baulked at establishing a space agency because of cost. The government has yet to announce how much it will invest in the new agency.