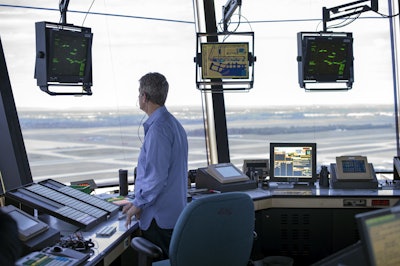 President Donald Trump has made airlines' longtime goal of privatizing air traffic control a key part of his agenda to boost America's infrastructure. But his prospects for closing the deal with Congress appear slim.
A House bill that would put the aviation industry in charge of air traffic control has repeatedly stalled and prospects appear even worse in the Senate, where there has been no effort to take up the issue. While the White House and airline lobbyists have pushed for privatization, there has been fierce opposition from private pilots, corporate aircraft owners and others who fear they will have to pay more to use the system and would lose access to busy airports.
Airlines have pushed for getting the government out of air traffic operations for decades and seemed to have the brightest prospects after meeting with Trump early this year. Trump embraced the idea as part of his overall plan to boost infrastructure — a big part of his campaign promise to create jobs. While Trump has offered few other specifics about his overall infrastructure plans, he put the spotlight on air-traffic privatization at a White House infrastructure event in June.
Three weeks later, the House transportation committee approved a bill by its chairman, Pennsylvania Republican Bill Shuster, to spin off air traffic control from the Federal Aviation Administration and place it under the authority of a private, non-profit corporation run by aviation interests, including airlines.
But the bill still hasn't come to the House floor. Trump's special assistant for infrastructure policy, D.J. Gribbin, told an airline industry conference last week that House leaders are planning a vote in early October. But the bill's supporters acknowledge the vote would have already happened if there was enough support to pass it.
"We're working on it," Rep. Paul Mitchell, R-Michigan, told reporters. "We don't have all the votes yet."
Lawmakers in both parties have expressed concern about Congress losing oversight of such an important, traditionally government-run function. The handover of about 300 airport towers and other flight tracking centers would be one of the largest transfers of U.S. government assets ever. About 35,000 workers would be affected.
Sen. Bill Nelson of Florida, the senior Democrat on the Commerce Committee, which oversees the FAA, called the House plan "a classic case of a costly solution looking for a problem."
"It's an idea that went nowhere in the Senate last year and is destined to meet the same fate this year," he said.
Airlines say the FAA has shown itself incapable of executing its plan to use technology to transform America's air traffic system, saving time, fuel and money and increasing the system's capacity to handle more planes as air travel grows. Part of the FAA's problem is that the vagaries of the government's budget process have limited the agency's ability to commit to long-term contracts and raise money for major expenditures. Placing the system under a corporation that can borrow money against future revenue would lead to greater efficiency and more reliable funding, airlines say.
Many countries have separated air-traffic operations from their safety regulator in recent years, with most creating government-owned corporations, independent government agencies or quasi-governmental entities. The House bill is modeled after Canada's air traffic corporation, Nav Canada, the only clearly private nonprofit air-traffic corporation. Privatization supporters say Nav Canada has made smart decisions that have enabled it to adopt more advanced technology while reducing fees to airlines and other users.
But opponents fear privatization will give airlines too much power over the aviation system.
"This is a monopolization bill," said Rep. Ralph Abraham, R-Louisiana. The corporation's 13-member board, as outlined in the bill, "is definitely stacked to favor the big airlines," he said.
The airline industry has faced the lobbying muscle of private pilots and other "general aviation" users in the past, and lost. People who can afford their own plane tend to be well-heeled and know how to get lawmakers' attention. They are an especially important constituency in rural districts and states, where people depend more on small aircraft.
Opponents also have enlisted the support of several aviation heroes, including astronaut Jim Lovell, the commander of Apollo 13. Retired Capt. Chesley "Sully" Sullenberger, the pilot who landed an airliner in the Hudson River without the loss of a single life made a commercial for opponents, saying not to trust "the keys to the kingdom" to "the people who make your airline seats smaller."
White House and airline officials have pushed hard, but say offers to adjust the bill to address opponents' concerns have been rebuffed. General aviation groups have told bill proponents they fear that any protections in the legislation would be inadequate.
"We could literally never get past that concept," said the White House's Gribbin.