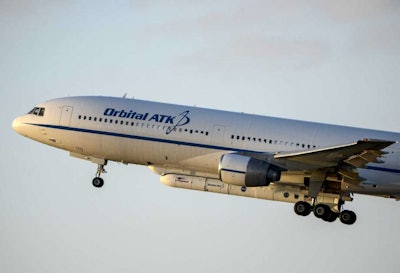 Northrop Grumman is buying Orbital ATK for about $7.8 billion as activity in defense sector heats up amid rising global tensions.
Earlier this month, United Technologies said it would pay $22.75 billion for defense contractor Rockwell Collins.
Legislation is expected to pass easily Monday pumping $700 billion into the Pentagon budget as the U.S. responds to growing hostility from North Korea.
The U.S. military on Monday flew advanced bombers and stealth jets over the Korean Peninsula and near Japan, three days after North Korea fired a missile over Japan.
Saudi Arabia has a pending deal to acquire $500 million in precision-guided munitions from the U.S., part of a proposed $110 billion arms package to Riyadh, which is enmeshed in a civil war in Yemen. A Saudi-led coalition, which is supported by the United States, has been carrying out airstrikes in Yemen since March 2015.
The acquisition of Orbital would strengthen Northrop Grumman's capabilities in military aircraft technology and missile defense. Orbital ATK makes launch vehicles and their propulsion systems; missile technology, defense electronics, precision weapons, armament systems and ammunition. It also builds up Northrop's space operations with Orbital's satellites and advanced aerospace structures.
Orbital ATK shareholders will receive $134.50 per share, a 22 percent premium to the company's Friday closing price of $110.04. The deal's total value is approximately $9.2 billion, including debt.
Shares of Orbital ATK surged 20 percent in Monday premarket trading. It appears the company will join most major defense contractors that have seen shares hit all-time highs this year as clashes escalate.
Rockwell Collins Inc., Boeing Co., Northrop Grumman, Raytheon Co., Lockheed Martin Corp. and Honeywell International Inc., are all hitting new highs.
Northrop Grumman Corp., which is based in Falls Church, Virginia, said that after the deal closes, Orbital ATK Inc., based in Dulles, Virginia, will become a separate sector within its business operations.
The boards of both companies have approved the deal and it's expected to close in the first half of next year.