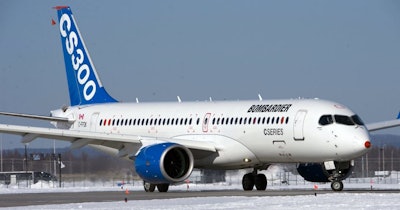 Boeing last week accused Canadian rival Bombardier of selling airplanes at an unfair and "absurdly low" price in an effort to win an order from Delta Air Lines.

Reuters reports that the Chicago-based aerospace giant petitioned the U.S. Commerce Department to investigate improper subsidies and unfair pricing by Bombardier.

The filing reportedly alleged that Bombardier, after a bid for a United Airlines order was unsuccessful, offered its CSeries planes to Delta for $19.6 million each — more than $52 million below its list price and more than $13 million less than the cost to produce the aircraft, Boeing alleged.

Boeing's similarly sized airplanes sell for $83.4 million and $92.2 million, Reuters reported, and sales discounts ordinarily trim only about half that amount from the final order.
Boeing further alleged that the CSeries only existed in the first place due to government aid from Canada, Britain and Quebec.

"Propelled by massive, supply-creating and illegal government subsidies, Bombardier Inc. has embarked on an aggressive campaign to dump its CSeries aircraft in the United States," Boeing said in its petition.

The petition also suggested that Bombardier took "a page out of the Airbus strategy book" — a reference to Boeing's French rival and frequent sparring partner before the World Trade Organization.

Bombardier won the contract to deliver 75 plans to Delta more than a year ago. The deal, at $5.6 billion, was the company's largest to date. Reuters reported that the government could impose duties on Bombardier if it finds that the planes were unfairly priced or subsidized.

Bombardier said in a statement that it was reviewing the filing and that the company ensures "compliance with the laws and regulations of the jurisdictions in which we operate."

The dispute is just the latest between U.S. and Canada after disagreements in recent weeks over ultra-filtered milk and softwood lumber. President Trump also reportedly considered withdrawing from the North American Free Trade Agreement last week.

Canadian officials responded that its programs were consistent with the country's international obligations and noted that companies on each side of the border benefit from a "highly integrated" aerospace industry.

"The government of Canada will mount a vigorous defense against these allegations and stand up for aerospace jobs on both sides of the border," Canadian economic development officials said in a statement.