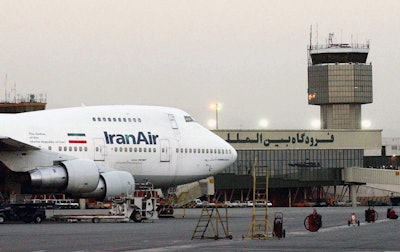 European airplane manufacturer ATR said Thursday it sealed a $536-million sale with Iran Air for at least 20 aircraft, the latest aviation firm to strike a deal following Iran's nuclear accord with world powers.
ATR spokesman David Vargas confirmed the finalized deal for the 20 ATR 72-600s, a twin-propeller aircraft, and said Iran Air had an option to purchase another 20.
"They will definitely help Iran Air to modernize and develop regional connectivity across the country," Vargas told The Associated Press.
Home to 80 million people, Iran represents one of the last untapped aviation markets in the world. However, Western analysts are skeptical that there is demand for so many jets or available financing for deals worth billions of dollars.
Vargas declined to offer a value for the deal with Iran Air. The confirmed portion of the deal is worth $536 million at list prices, though buyers typically negotiate discounts on bulk orders. Iranian state TV described the deal as being worth about $400 million.
The deal also already has the approval of the U.S. Treasury, Vargas said. The Treasury must sign off on aircraft deals when at least 10 percent of the airplanes' components are of American origin. The Treasury could not be immediately reached for comment.
Farhad Parvaresh, the CEO of Iran Air, told the state-run IRNA news agency that the French-Italian company will deliver nine ATR 72-600s in 2017 and the rest in 2018. He said four of the aircraft will arrive within a month after signing the contract.
In February 2016, ATR signed an initial agreement to explore selling the aircraft to Iran Air. ATR is the Toulouse, France-based partnership of Airbus and Italy's Leonardo S.p.A., which specializes in regional turboprop aircraft of 90 seats or less.
The ATR deal comes on the back of the nuclear agreement Iran struck with world powers, which saw Iran agree to limit its enrichment of uranium in exchange for the lifting of economic sanctions.
That deal allowed airplane manufacturers to rush into the Iranian market.
Boeing Co. has already made a $16.6 billion sale already to Iran Air, while its European rival Airbus signed one estimated to be worth some 22.8 billion euros ($25 billion). The Treasury has signed off on both those deals.
Chicago-based Boeing also signed a $3 billion deal earlier this month to sell 30 737 MAX aircraft to Iran's Aseman Airlines, a firm owned by Iran's civil service pension foundation. The Boeing sales represent the first major deals for an American company in Iran since the 1979 Islamic Revolution and U.S. Embassy takeover.
U.S. politicians have expressed concern about the airplane sales to Iran. President Donald Trump remains skeptical of the atomic accord overall and has threatened to renegotiate it, without offering specifics.