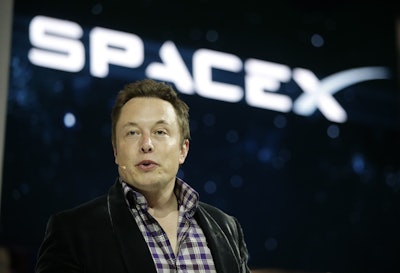 The U.S. Air Force on Tuesday announced a $96.5 million contract awarded to SpaceX to launch another satellite into orbit.

The Los Angeles Times reports that the GPS III satellite is scheduled to launch from Florida's Cape Canaveral Air Force Station in February 2019 and will provide "better anti-jamming capabilities and improved accuracy for precision navigation and timing."
Elon Musk's private spaceflight company received its first Defense Department satellite launch contract last year after the Pentagon's longtime partner — Boeing and Lockheed Martin joint venture United Launch Alliance — did not bid on the $82.7 million initiative.
ULA reportedly submitted a bid for the contract announced this week but was beaten out by SpaceX for the first time. ULA and SpaceX are the only companies certified to bid on national security satellite launches.
"SpaceX is proud to have been selected to support this important National Security Space Mission," said SpaceX President Gwynne Shotwell. "We appreciate the confidence that the U.S. Air Force has placed in our company and we look forward to working together towards the successful launch of another GPS III mission."