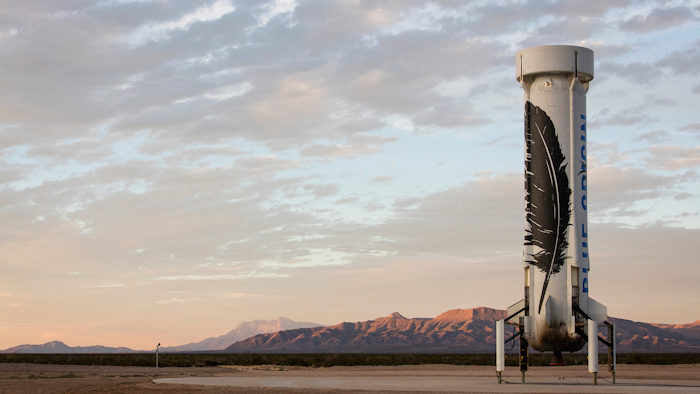 Commercial space company Blue Origin is working on its reusable New Shepard rocket with the goal of putting humans in space by 2017. On Wednesday, just minutes before SpaceX's latest mission ended in a crash landing, Blue Origin founder Jeff Bezos sent out an update on the BE-4 engine, which is built entirely in-house.
The BE-4 is intended to take Blue Origin's craft into space – offering an American-made alternative to the Russian-made RD-180.
The BE-4 is anticipated to be ready by 2017. Currently, Blue Origin is testing the BE-4 preburner in a pressure-fed test cell and developing the transient start sequence for the preburner.
In May, Blue Origin commissioned the first of two test cells, which will support development of the preburner start and ignition sequence timing used in full-scale tests.
"We made the decision to build these two new test cells as a team in a 10 minute discussion," Bezos said in an email update on May 26. "Less than three weeks later we were pouring concrete and now we have an operating pressure fed test cell 7 months later. Private funding and rapid decision making are two of the reasons why the BE-4 is the fastest path to eliminate U.S. dependence on the Russian-made RD-180."
The next flight of the New Shepard will take place on Sunday, June 19. Originally planned for Friday, June 16, it was rescheduled on Thursday due to a leaking O-ring.
According to a Tweet spotted by The Verge, Blue Origin will livestream its test for the first time during this event.
This will be the fourth flight with the same New Shepard vehicle. It will test maneuvers with both the crew capsule and the booster rocket, as well as testing an intentional landing failure: the crew capsule will be subjected to an intentionally failed parachute in order to test the safety measures put in place in case of a failure. Retro-rockets and a "crumple zone" on the bottom of the crew compartment are designed to soften the landing in the event of an emergency.
The third flight, on April 2, brought the craft to an apogee of 339,178 feet.