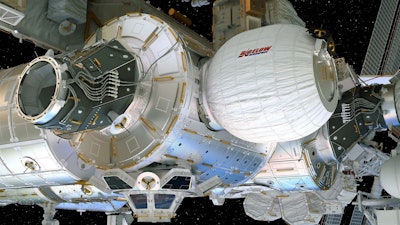 Earlier this week, Bigelow Aerospace and United Launch Alliance announced a partnership to deploy an expandable space habitat into Earth's orbit within four years.
The launch is set to take place in 2020, with ULA's Atlas V carrying habitat, based on Bigelow's B330. When fully expanded, the B330 has about 12,000 cubic feet of space. The team hopes to use the space to conduct science and manufacturing research in zero gravity.
No plans are yet final for the destination of the module. The EXBASE habitat — Expandable Bigelow Advanced Station Enhancement — could be attached to the International Space Station, increasing the ISS's capacity by 30 percent. If the unit is not attached to the ISS, it will orbit independently.
If the habitat holds up under testing, the partnership plans to eventually leverage the habitats to encourage space tourism and facilitate travel to the moon as well as Mars.
"[This module] enables destinations in space for countries, corporations and even individuals far beyond what is available today, effectively democratizing space," said ULA President and CEO Tory Bruno. "We can't begin to imagine the future potential of affordable real estate in space."
The first tests of this inflatable habitat technology, in partnership with NASA, are nearly underway.
Last week, SpaceX launched an expandable module, called the Bigelow Expandable Activity Module for two years of testing aboard the ISS. On Saturday, NASA plans to install the inflatable room on to the ISS's Tranquility module but won't inflate the addition to its full size — 10 feet in diameter and 13 feet long — until the end of May.
During these tests, which will involve astronauts stopping in several times a year to check sensor data, Bigelow and NASA will examine how well the expandable material holds up to the extreme temperature changes and space debris, and how well it protects against solar radiation.
Do you think inflatable habitats will replace rigid structures for space travel? Do you think the modules show more promise for space tourism or for a Mars mission? Comment below or tweet @KatieeMohr.