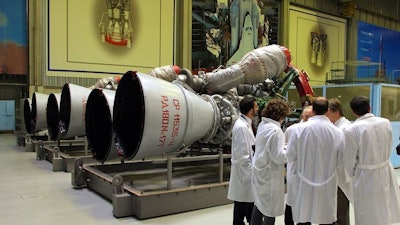 The company that launches U.S. defense payloads into space must soon decide whether to use engines built by a longtime NASA contractor or Amazon founder Jeff Bezos' spaceflight company.

The Financial Times reports that the United Launch Alliance is currently working with both Blue Origin — the Bezos-founded company that famously launched and landed rockets sent into suborbital space — and Aerojet Rocketdyne, which built the engines that powered the Space Shuttle program.

ULA, a joint partnership between Boeing and Lockheed Martin, announced an agreement last fall with Blue Origin to develop BE-4 engines for its next launch system.

Earlier this year, however, California-based Aerojet Rocketdyne announced a public-private partnership with ULA and the U.S. Air Force to develop the AR-1 engine.
The engines are competing to replace the RD-180, a Russian-made engine currently used by ULA to launch Defense Department cargo. The agency's use of Russian equipment came under heavy fire in Washington amid Russia's intervention in Ukraine.

Blue Origin told FT that its timetable for delivering engines is well ahead of Aerojet Rocketdyne — particularly with a 2019 deadline looming to phase out the RD-180.

Aerojet officials, however, told reporters in Colorado Springs this week that the AR-1 is equipped to fly on both the current Atlas launch system and the forthcoming Vulcan.
"The AR-1 is the most logical solution to this problem," Aerojet's Julie Van Kleeck told FT. "It is the lowest risk and cost solution to the taxpayer and solves the problem on the shortest schedule."