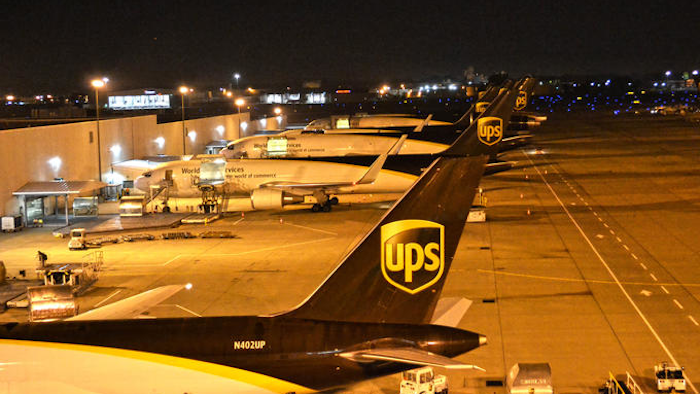 UPS is known for shipping, and the Worldport facility keeps the company's overnight operations moving at a lightning pace - with over 5.2 million square feet of space, UPS moves more than 115 packages a second. Besides all the automation, Worldport houses an army of sorters, flight technicians and directors, pilots, and even a team of meteorologists to keep logistics moving in the wee hours of the morning.
Read: UPS May Be Changing The Supply Chain World
The facility houses its own maintenance shed for damaged or wearing planes.
While the Worldport facility is quite massive, UPS flies in more planes than the building can handle. As the company bides its time waiting for another $1 billion expansion, planes are relegated to being unloaded and reloaded on a tarmac just off of the facilities.
Mike Mangeot, UPS Communications, provided a tour inside one of the UPS 747s that was parked on the tarmac.
Inside the belly of Worldport, 1.2 million casters and ball transfer units embedded in specially designed docks and hub floors help move massive shipping containers from the planes to the conveyor systems and back again.
Worldport houses 33,496 conveyors and utilizes smart labels that are read by overhead cameras to facilitate the processing of documents, small packages, as well as irregular-sized shipments.