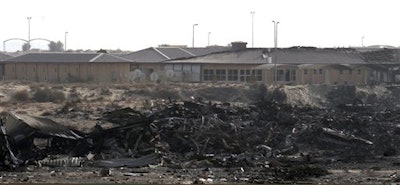 DUBAI, United Arab Emirates (AP) -- A fast-moving fire that began in cargo containing lithium batteries turned the inside of a United Parcel Service plane into a "catastrophic" chain reaction of flames and smoke before a crash three years ago in the desert outside Dubai, according to a report released Wednesday.
The 322-page investigation into the crash, which killed both pilots, backed up preliminary probes pointing to the lithium batteries as the possible cause of the blaze and drew further attention to the potential risks of the batteries in aviation.
Lithium batteries have been the subject of fire-related probes on the Boeing 787 "Dreamliner." The entire 787 fleet was grounded for about three months earlier this year after a fire in a battery on a Japan Airlines 787 parked at Boston's Logan International Airport, and a smoking battery that led to an emergency landing by an All Nippon Airways 787 in Japan.
The United Arab Emirates' report said investigators for General Civil Aviation Authority found "with reasonable certainty" that the fire aboard the UPS Boeing 747-400 crash began in cargo containing a hundreds of lithium batteries of various designs. The chain-reaction fire quickly filled the cockpit with smoke before the plane went down on Sept. 3, 2010, about an hour into the flight to Cologne, Germany.
The report noted that investigators could not cannot pinpoint the factors that started the fire, describing it as a "chain reaction which spread to the available combustible material" and apparently was not spotted by smoke detectors in its early moments.
"The fire escalated rapidly into a catastrophic, uncontained" blaze, the report said.
The report included more than 35 recommendations, including better early-warning systems in cargo holds to detect fires, and adding equipment that could aid pilot visibility in smoky conditions.
It added that shippers of some of the lithium battery cargo loaded onto the plane in Hong Kong "did not properly declare these shipments" and did not provide battery test reports recommended under U.N. aviation guidelines.
Before publication of the report, UPS had begun implementing new systems to improve pilot vision and protocols to quickly use full-face oxygen masks when needed, said a statement from the Independent Pilots Association in Louisville, Kentucky.
Atlanta-based UPS has ordered 1,821 fiber-reinforced plastic shipping containers designed to withstand intense fires for four hours or longer, giving "pilots more time to safely land their planes in an emergency," said a company spokesman, Malcolm Berkley.
In November, the National Transportation Safety Board in Washington urged that fire-suppression systems be installed in all cargo containers or compartments of planes to prevent in-flight blazes that have killed four cargo pilots since 2006, including the two who perished in Dubai.
"Nearly three years following this tragic accident, UPS pilots welcome the release of this final report," said the Independent Pilots Association president, Robert Travis, who added that the group has worked with UPS on a system that could suppress and contain a fire for up to four hours.
This month the U.S. Federal Aviation Administration urged that Boeing inspect all emergency locator transmitters on all 787s following a fire aboard one of the airliners that was parked at London's Heathrow Airport. As part of the inspection, the transmitter's lithium battery compartment would be checked for heat or moisture.
The 787 is the first airliner to make extensive use of rechargeable lithium ion batteries.
Associated Press writer Joan Lowy in Washington contributed to this report.