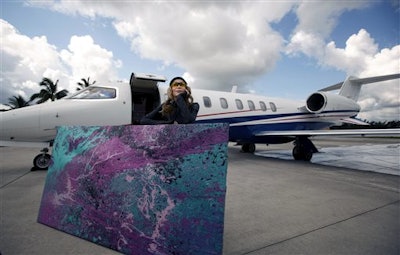 WEST PALM BEACH, Fla. (AP) -- The hurricane-force thrust from a jet engine pushes Tarinan von Anhalt into the air as she splatters an array of colors into the wind and onto a blank canvas to create the abstract designs she has become known for.
Instead of paintbrushes, she uses $10 million jet engines from a Learjet to hurl blues and purples with a force that creates intense power and heat.
"The timing of the velocity and the heat and the paint and so many other conditions is what creates art," she told The Associated Press on Tuesday from a tarmac in West Palm Beach.
Von Anhalt began creating such one-of-a-kind — and pricey — artwork in 2006 after studying the work of her mentor and late husband, Prinz Jurgen von Anhalt of Germany, who is credited with creating this type of artwork about three decades ago.
In a tight black Lara Croft-inspired pant suit, Princess von Anhalt grabs plastic bottles and jars of paint as she slowly makes her way across the tarmac to the blank canvas as planes take off nearby. With a small jet parked about two car-lengths away, she stands close enough to the canvas to touch it.
Von Anhalt then raises her empty hand to motion for the pilot to speed up the engine, and the splattering begins.
Hurled into the air at a ferocious velocity, paint collides with canvas and slowly drips in different directions in Florida's humidity.
The power of the engine and the heat of the creative process, Von Anhalt said, are addictive.
"When I'm in the midst of the creation, I don't think of the force," she said. "I don't think of the danger. I don't think of the heat. I'm caught up in the moment. It's addicting and you don't want to stop."
Flexjet, a private jet services company, partnered with the Jet Art Group to create different artworks to celebrate the 50th anniversary of Learjet.
Von Anhalt has created about three dozen pieces so far, but declined to say how much her paintings go for.
"It's a passion like a hurricane, like a tornado," she said. "And the more that the color gets laid down, the more I can see and predict what the painting is going to be." Other times, she admitted, she is surprised to see which direction the paint goes in the wind. "That's the emotion. It's an addiction. And how do you describe that? It's better than anything else."