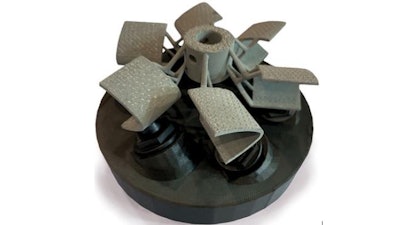 Autodesk/Renishaw Canada
Blue Photon (West Building, Level 3, Booth #431392) grippers and BlueGrip workholding adhesive products are designed to simplify how parts are loaded to reduce scrap and increase spindle up-time. Hard-to-hold additive parts for post-processing are particularly suited to Blue Photon's adhesive workholding technology.
Blue Photon's patented grippers are load bearing and light transmitting fixture components inserted into an insert and fixturing system which supplies up to 605 lbs of tensile holding power each. The process involves applying proprietary BlueGrip workholding adhesive to the grippers and curing through the grippers with ultraviolet light for 60 seconds.
By using grippers, and eliminating clamps on top of the part, cutting tool access is achieved. The part de-bonds with a ¼ turn twist of the gripper or hot water soak. Residual adhesive is simply removed by the application with pressurized steam or hot water, and a light peeling action.
Any part that is at risk of distortion from traditional clamping or pose complications in fixture design are a potential candidate for the workholding technology.
For more information, visit https://www.bluephotongrip.com.