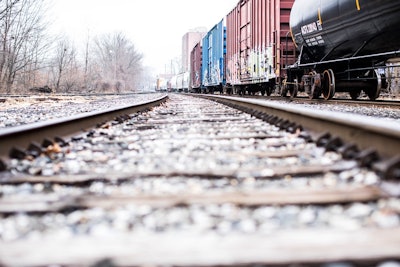 Since the creation of the Baltimore and Ohio Railroad in 1828, the first common carrier rail line, whenever America needs to move products, it hits the rails. But today, when you think about the cutting edge of logistics, your first thoughts likely don't go to freight trains.
Yet this centuries-old mode of transportation continues to be at the heart of the supply chain, a relic of the 19th century that drives 21st century logistics through the use of modern systems and digital technologies.
Why Does Freight Rail Matter?
After road transport, rail moves the second-highest volume of goods in the United States, and continues to grow. The Federal Railroad Administration projects that freight tonnage on the U.S. rails will increase 22 percent over the next 15 years. Record volumes are being driven by consumer spending and increases in e-commerce, and freight rail has a significant impact on the U.S. economy by creating high-paying jobs, employee compensation, including benefits. This averages approximately $120,000 per year, among the highest of any major U.S. industry.
So how do trains remain relevant in an age of AI and autonomous vehicles? Innovation, driven primarily through a shake-up in the model that underpinned the industry since its dawn—precision-scheduled railroading. The principles pioneered by the late Hunter Harrison adapted the freight railroad model to operate more like commercial airlines, with set departure times. From a recent Wall Street Journal industry profile, "Freight railroads generally have operated the same way for more than a century… now railroads want to run more like commercial airlines, where departure times are set. Factories, farms, mines or mills need to be ready or miss their trips."
The predictable schedule creates new challenges that requires increased orchestration across the entire supply chain. The takeaway for manufacturers? There's less margin for error—otherwise, the train has left the station.
The entire supply chain has to adapt to this new model. The entire journey, from manufacturers to third-party logistics companies to the end customer, needs to be optimized using technologies for data capture and visibility:
need real-time visibility into their assets—in transit and at rest—and need to plan utilization based on customer demand.
should synchronize every element of their inventory—again, in transit and at rest—to track and optimize its movement from the factory floor to its end destination.
and logistics service providers must map supply and demand and ensure cargo is at the rail when it needs to be.
Rail is moving significantly more freight every year, and new technologies are empowering the supply chain to fully embrace the new precision railroading model. As a nation, we are going to continue to use trains to move products, and visibility and optimization will help logistics providers moving forward.

Pervinder Johar is CEO of Blume Global.