According to the latest U.S. Manufacturing Technology Orders (USMTO) report from The Association for Manufacturing Technology (AMT), the manufacturing technology orders totaled $337.2 million in February 2019, accounting for a 15 percent decline from January and a seven percent decline from the previous February.
The year-to-date total was $735.2 million, less than one percent off the year-to-date total at this point last year.
Douglas K. Woods, president of AMT commented, "It's important to look at the February numbers in context. It's true that order levels declined, but from the second strongest January in the history of the USMTO program. They're still at good levels compared to this time a year ago."
Woods further commented that other industry indicators signal continued growth in the manufacturing sector, and that AMT members are generally positive heading into the second quarter.
However, despite the March ISM Manufacturing PMI expansion, and the suggestion of a successful conclusion to the U.S.-China tariff negotiations, Woods did point out that there remains uncertainty on issues such as tax, trade, and the U.S. budget.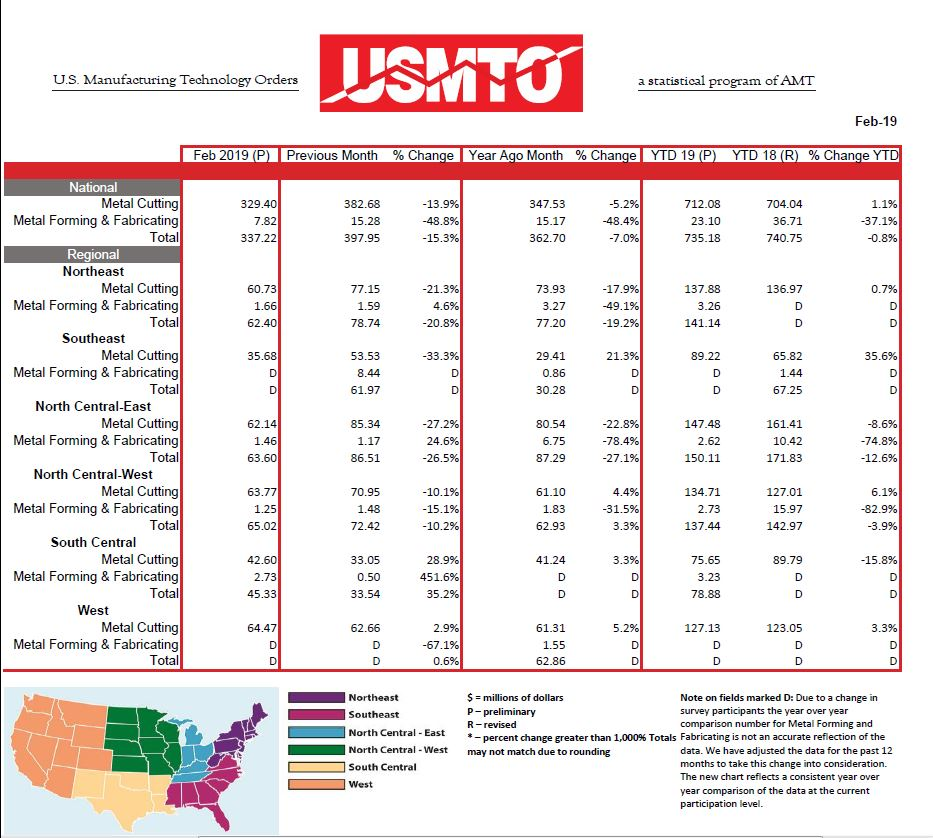 Highlights:
The nearly 50 percent decline in orders placed by the Aerospace as well as Engine and Turbine industries led the downturn between January and February.
Due to large orders in the Great Lakes area and the West, February 2019 had a notable expansion in orders from Commercial and Service Industry Machinery Manufacturing such as Water Treatment and Commercial Cleaning Equipment.
Four of the six USMTO regions had fewer orders in February than January, with the largest decline coming from the Southeast. In the West, metal cutting orders rose slightly.
Declines in Forming and Fabricating, however, resulted in roughly stagnant orders compared to the previous month.
The South Central region outperformed all other regions, with orders expanding by over a third from January 2019 led by growth in Oil & Gas, Contract Machining, and Food Processing Equipment sectors.
United States Manufacturing Technology Orders (USMTO) Report
These numbers and all data in this report are based on the totals of actual data reported by companies participating in the USMTO program. This report, compiled by AMT – The Association For
Manufacturing Technology, provides regional and national U.S. orders data of domestic and imported machine tools and related equipment. Analysis of manufacturing technology orders provides a reliable
leading economic indicator as manufacturing industries invest in capital metalworking equipment to increase capacity and improve productivity.