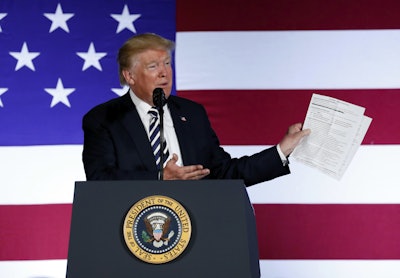 U.S. President Donald Trump on Monday reaffirmed Washington's support for a business summit that aims to boost connectivity in Eastern Europe and improve ties between the region and the U.S. and European Union.
Trump wrote to Romanian President Klaus Iohannis ahead of the 12-member Three Seas Initiative, saying it could expand infrastructure, business connections, strengthen energy security and reduce trade barriers.
"The United States remains a proud partner in these efforts .... in this strategically important region," he said.
European Commission President Jean-Claude Juncker, U.S. Energy Secretary Rick Perry, Croatian President Kolinda Grabar-Kitarovic and other heads of state will attend the two-day summit where officials will discuss about 40 government-approved projects that aim to boost regional connectivity in transportation, energy and the digital fields.
A business summit will also be held in Bucharest at the same time, gathering officials and bankers from the European Investment Bank, the European Bank for Reconstruction and Development, and the World Bank.
The initiative is a cooperation of European Union members located between the Adriatic, Baltic and Black Seas. Austria is the only member that wasn't formerly communist. The first summit was held in 2016. Trump attended the second summit in 2017 in Warsaw, Poland.