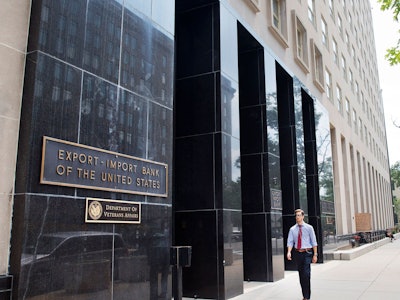 The U.S. Export-Import Bank appears ready to resume business after a five-month hiatus.

The bank, which makes low-interest loans and loan guarantees to facilitate foreign purchases of American-made goods, would be reauthorized under a compromise federal highway bill unveiled this week.

The Ex-Im Bank's charter expired in late June amid opposition from some House Republicans, who alleged that the loans interfered with the free market.

Last month, however, the bank reauthorization was attached to the House version of the highway bill, and a conference committee included it in the final language unveiled this week.

The House is reportedly prepared to vote on the bill this week with the Senate to follow shortly thereafter.

The bank's loans overwhelmingly go to three industrial giants conducting business abroad: Boeing, Caterpillar and GE.

Critics pointed to those loans as evidence of "crony capitalism," but proponents noted that those companies support huge workforces and massive supply chains.

They also touted the billions in economic activity generated by the bank at no expense to taxpayers.

"Making it easier for companies — small, medium and large — to do business abroad will mean supporting good-paying, middle-class jobs back home," said Sen. Chuck Schumer, D-New York, this week.

Both Boeing and GE cited the Ex-Im Bank impasse when announcing U.S. job cuts in recent months.

Boeing said in August that it would cut hundreds of positions in its satellite division, while GE signaled that it would move hundreds of U.S. jobs to France and Canada.

"Without it, we cannot compete and our customers may be forced to select other providers," GE Vice Chairman John Rice said in September.