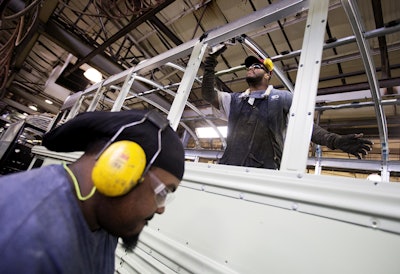 WASHINGTON (AP) — The U.S. economy grew at a slightly faster rate in the summer than previously reported, mainly because of a less severe slowdown in businesses stockpiling.
The overall economy, as measured by the gross domestic product, grew at an annual rate of 2.1 percent in the July-September period, the Commerce Department reported Tuesday. That is better than its previous estimate of 1.5 percent growth.
Even with the revision, economic growth slowed sharply from a 3.9 percent gain in the second quarter. The economy then was rebounding from a harsh winter that had sapped first quarter growth to a barely discernible 0.6 percent pace.
Economists are forecasting that growth will accelerate to around 2.5 percent in the current quarter as a healthy labor market and falling gas prices fuel stronger consumer spending.
A slowdown in stockpiling trimmed growth by 0.6 percentage point. But that was an improvement from the government's first estimate a month ago that reduced inventory stockpiling had cut growth by 1.4 percentage points. The government will make one final estimate of GDP in the summer next month.
While the revision in inventories helped third quarter growth, this improvement was offset somewhat by slightly slower growth in consumer spending, which grew at a 3 percent annual rate in the summer. The revision reflected in part weaker spending on cellphones than initially estimated.
The trade deficit was a bigger drag than initially estimated, trimming growth by 0.2 percentage point, as exports grew by just 0.9 percent in the quarter, down from a 1.9 percent initial estimate. American exports have been held back this year by weakness overseas and a rising value of the dollar, which make U.S. goods less competitive on foreign markets.
Business investment slowed to 3.4 percent growth rate in the third quarter, down from 5.2 percent in the second quarter as the category that covers oil and gas exploration plunged at an annual rate of 47.1 percent. This sector has been hurt by the sharp fall in energy prices which has trigged big cutbacks at energy companies.
Residential investment grew at a 7.3 percent rate in the third quarter, down slightly from the 9.2 percent second quarter gain. Government spending grew at a 1.7 percent rate as strength in state and local spending offset a big drop in defense spending.
While overall GDP growth is expected to accelerate slightly to around 2.5 percent for the year, economists are forecasting that 2015 will be another year of only modest economic growth.
The expectation of stronger consumer spending in the fourth quarter reflects the solid job gains year. The government reported that employers created 271,000 jobs in October, and the unemployment rate fell to a seven-year low of 5 percent.
That strong jobs performance has raised expectations that the Federal Reserve will raise interest rates at its next meeting on Dec. 15-16. It has kept its benchmark rate at a record low near zero for seven years.
In a letter released by the Fed on Monday, Chair Janet Yellen repeated assurances that when the Fed does begin raising rates, it is likely to do so at a gradual pace to avoid the costly mistakes other nations have made in trying to raise rates too quickly and harming economic growth.
"Other countries paid a heavy price for being forced to reverse course," Yellen said in a letter to consumer advocate Ralph Nader. "Japan, where interest rates have remained near zero for most of the past 25 years, serves as a cautionary tale."
Many private economists are looking for a small quarter-point rate hike at the December and expect that to be followed by four more quarter-point hikes at every other Fed meeting next year.