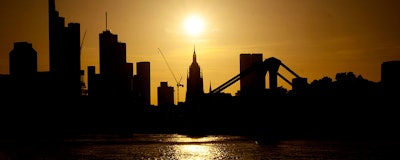 LONDON (AP) — A much-anticipated economic pick-up across the 19-country eurozone does not appear to be materializing yet, if one closely-watched survey is anything to go by.
Financial information firm IHS Markit said Wednesday that its purchasing managers' index for the eurozone — a broad gauge of business activity — fell in May to an 18-month low of 54.1 points from 55.1 the previous month.
Though any reading above 50 still points to growth, the drop reinforces the argument that a first-quarter slowdown may not have been merely a soft patch. The survey found new order growth slowing and hiring easing, while companies are less optimistic about the future. However, it also indicated that businesses across the bloc were hindered by an unusually high number of public holidays.
"The May PMI brought yet another set of disappointing survey results, though once again a note of caution is required when interpreting the findings," said Chris Williamson, chief business economist at HIS Markit.
Whatever the cause, the survey suggests that second-quarter growth won't beat the first quarter's 0.4 percent. That was down on the 0.7 percent seen during the previous three quarters, which had helped the region expand by a decade-high rate of 2.5 percent during 2017.
Most economists had thought the first-quarter slowdown was a blip, due to some bad weather and even an outbreak of flu in Germany.
Wednesday's survey suggests the slowdown may be more protracted and could be due to the euro, which raised the cost of eurozone exports.
"At this point we are still comfortable with our recent downward revision of the 2018 GDP growth outlook to 2.2 percent, but downside risks are mounting," said Moritz Degler, an economist at Oxford Economics.
The euro was down a further 0.5 percent at $1.1723 and near 2018 lows as the weakness in the economic data is likely to raise questions over when the European Central Bank will end its bond-buying stimulus program. That in turn will affect how soon it joins its peers, notably the U.S. Federal Reserve, in raising its benchmark interest rate, currently at 0 percent.
The ECB has indicated it could ease off stimulus further once inflation gets back to its goal of just below 2 percent but so far inflation has remained stubbornly low — in the year to April, consumer prices were up a mere 1.2 percent.