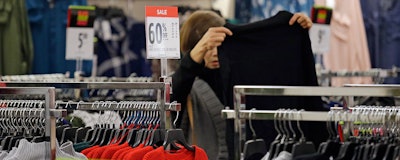 WASHINGTON (AP) — U.S. consumer prices rose a modest 0.2 percent in April, lifted by higher gas costs, a sign that inflation pressures remain muted.
The Labor Department said Thursday that the consumer price index increased 2.5 percent in April from a year earlier, the biggest annual gain in 14 months. Yet excluding the volatile food and energy categories, core prices ticked up just 0.1 percent in April and 2.1 percent from a year earlier.
Inflation has increased steadily since last summer, when it rose just 1.6 percent in June from a year earlier. But core prices have risen more slowly.
Slower growth in core prices could make it less likely that the Federal Reserve will accelerate its interest rate increases. The Fed has signaled they will lift rates twice more this year. Some expect that an uptick in inflation or economic growth might spur the Fed to add a third hike.
Inflation fears on Wall Street have intensified in recent months with the unemployment rate sinking to a 17-year low of 3.9 percent. And there are tentative signs that Americans are taking home bigger paychecks. Typically, low unemployment forces companies to pay workers more. Businesses may then increase prices to offset their own rising costs.
Still, there are plenty of economists who remain skeptical that inflation will accelerate, even with the current employment picture. So far, wages aren't rising in tandem with the healthy economy, as they have in the past. And even when wages rose faster, in the late 1990s, inflation topped 3 percent but didn't get out of hand.
Still, Americans are facing some cost increases. Gasoline prices have risen 13.4 percent in the past year. Car insurance prices have soared 9 percent. Rents have jumped 3.7 percent from last year.
But economists at Bank of America Merrill Lynch note that the increases aren't yet broadly distributed throughout the economy. The cost of new cars and trucks has fallen 1.6 percent from a year ago, and clothing costs are up just 0.8 percent.
In April, used car prices dropped 1.6 percent, the largest decline since March 2009.
Food prices have also been flat, rising just 1.4 percent in the past 12 months. Mobile phone service prices fell 0.7 percent in the past year, as unlimited data plans have spread.