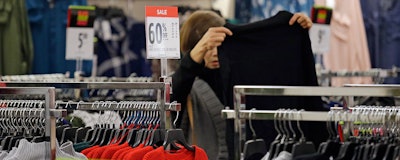 WASHINGTON (AP) — U.S. consumer prices, excluding the volatile food and energy categories, rose 0.3 percent last month. That was the biggest climb in a year and has intensified inflation fears in financial markets.
Overall consumer prices rose 0.5 percent in January, the most in four months, the Labor Department said Wednesday. Inflation rose 2.1 percent from a year earlier and core prices increased 1.8 percent. The increases were led by much higher clothing costs and more expensive car insurance.
Both measures show that inflation is mostly contained, but the increase in core prices will likely make investors nervous. Analysts are hyper-focused on whether faster price increases may cause the Federal Reserve to raise short-term interest rates faster than expected. Higher interest rates make it more expensive for consumers and businesses to borrow and spend and could slow growth.
"We think the increase in core inflation is a sign of things to come over the rest of the year," said Michael Pearce, U.S. economist at Capital Economics.
Pearce expects core inflation will reach nearly 2.5 percent in the spring and keep rising. Other economists forecast that core prices won't reach that level until the end of the year, if at all.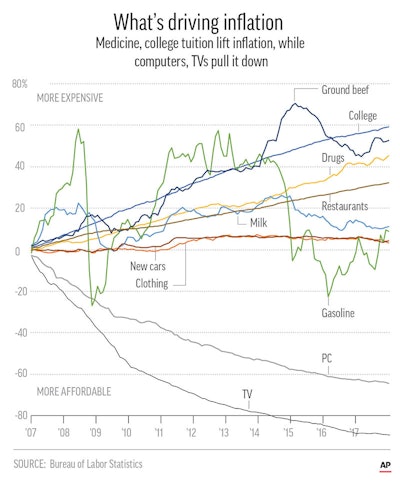 Investors dumped stocks and bonds in the wake of the report. The Dow Jones industrial average fell 50 points in mid-morning trading. The yield on the 10-year Treasury, a benchmark for mortgage rates, ticked up to 2.88 percent.
Inflation was largely dormant for most of the past decade, but inflation fears — at least in the financial markets — have roared back this year. It's a sharp shift from last year when consumer price growth slowed, even as the economy grew and the unemployment rate fell. These are rends that typically push inflation higher.
Fears of higher prices worsened earlier this month after a government report in early February showing wages grew in the past year at the fastest pace in eight years. That sparked a market sell-off that sent stock indexes down 10 percent before rebounding this week.
Clothing costs jumped 1.7 percent in January after three months of declines. That was biggest monthly gain since 1990. Auto insurance prices rose 1.3 percent, the most since 2001.
Gasoline prices rose 5.7 percent last month, pushing up the headline index. Gas prices have risen a bit more this month: On Wednesday, the nationwide average gas price was $2.56 a gallon, up three cents from a month earlier.
Despite the market's jitters, inflation isn't yet much of a threat to consumers. The 1.8 percent increase in core prices is still below the Fed's 2 percent target. The Fed follows a different inflation gauge, which hasn't consistently topped 2 percent for six years.