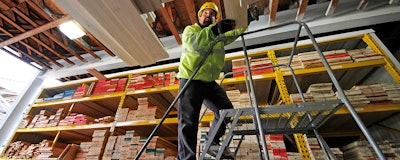 WASHINGTON (AP) — U.S. wholesale prices fell 0.1 percent in December, led by cheaper food and lower shipping costs.
The Labor Department said Thursday that wholesale prices, which measure the cost of goods before they reach the consumer, increased 2.6 percent last month compared with the previous year. Excluding volatile food, energy and business profit margins, core wholesale prices ticked up 0. 1 percent last month and 2.3 percent from a year ago.
The figures suggest inflation pressures have cooled at the wholesale level. Wholesale prices had risen 0.4 percent in three of the past four months, mostly because of much higher energy costs. In December, energy prices were flat while food costs fell 0.7 percent.
With unemployment at a low 4.1 percent and the economy expanding, economists are closely monitoring price indexes for any signs of inflation.
Federal Reserve policymakers have said they expect to raise short-term interest rates three times this year. But they could do so more often if inflation threatens to accelerate more quickly.
So far, consumer prices remain largely in check. The consumer price index increased a modest 2.2 percent in November from a year ago.
Here are some other facts to know:
Prices for transportation and warehousing services fell 4 percent, led by lower costs for airline passenger tickets.
Wholesale gas prices dropped 3.9 percent last month, suggesting consumers may soon see some savings at the gas pump.
Beef and veal prices fell 6.3 percent, the most since July.
Separately, the Labor Department said that applications for unemployment benefits, a proxy for layoffs, rose by 11,000 last week to a still-low 261,000. While it was the highest level in 15 weeks, applications for jobless benefits still remain at levels indicating a healthy labor market.