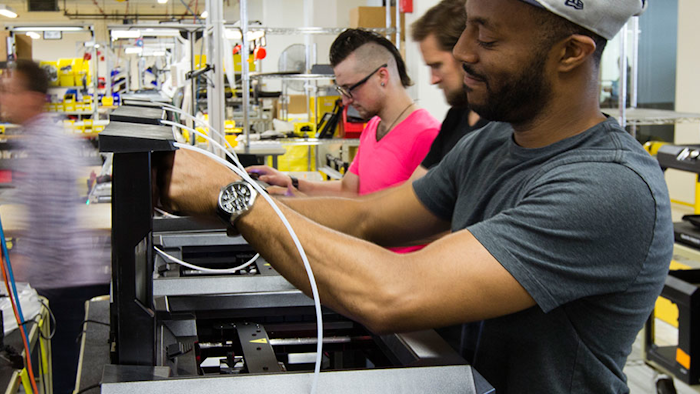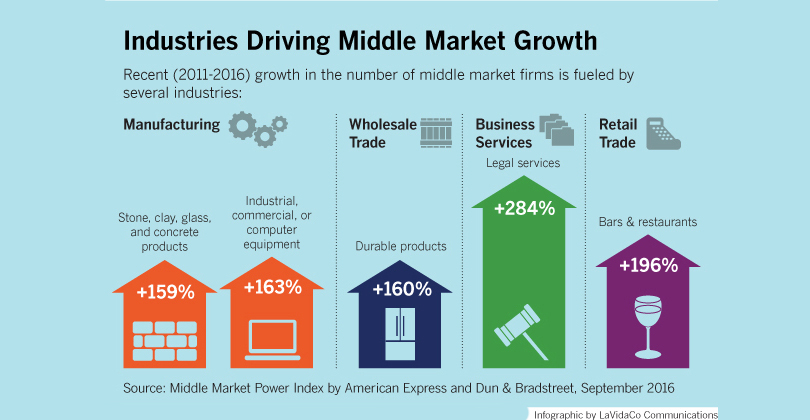 A new report from American Express and Dun & Bradstreet indicates that the growth of U.S. middle market firms (those companies with revenues between $10 million and $1 billion) is outpacing the national average. This includes an 87 percent increase in the number of firms, a 103 percent surge in employment and a 100 percent rise in revenue since 2011.
"Middle market firms are leading business growth in the United States, outpacing both small and large-sized firms," said Jeff Stibel, vice chairman of Dun & Bradstreet, in a press release. "More specifically, the service industry continues to lead middle market growth in terms of revenue, employment and number of firms, reflecting the larger trend in the U.S. moving from a manufacturing-based to a service-driven economy."
Analysis of this growth can ultimately help uncover larger economic trends. The top sectors that include the most middle market firms are manufacturing (18 percent), wholesale trade (17 percent) and business services (11 percent). Within those sectors, several industry subcategories have been fueling growth in number of firms since 2011. Those include:
Business services – Legal services (284 percent)
Manufacturing – Industrial, commercial, or computer equipment (163 percent)
Wholesale trade – Durable products (160 percent)
"Middle market companies are not only driving the national economy in terms of revenue and employment growth, but the most transformative middle market industries are shaping the overall direction of our economy," said Brendan Walsh, executive vice president, U.S., American Express Global Commercial Payments in a press release. "The success of younger manufacturing companies in the middle market is a key indicator of how technology is influencing and guiding the future of the industry, while the growth of business services as a focus for younger middle market companies reflects the strengthening knowledge economy."
The below table highlights how the manufacturing industry compares with all commercially-active firms as a whole:
 

Share of Firms (2016)

Growth (2011 – 2016)

Small (<$10M)

Middle Market ($10M-$999M)

Large ($1B+)

Total

Total Number of Firms

Revenue

Employment

Manufacturing

3.0%

17.9%

27.7%

3.1%

126.5%

159.2%

127.1%

Total U.S.

99.02%

0.96%

0.02%

100%

-17.0%

52.8%

35.6%
Find out more: Middle Market Power Index: A Detailed Look at Top Industries from American Express and Dun & Bradstreet.