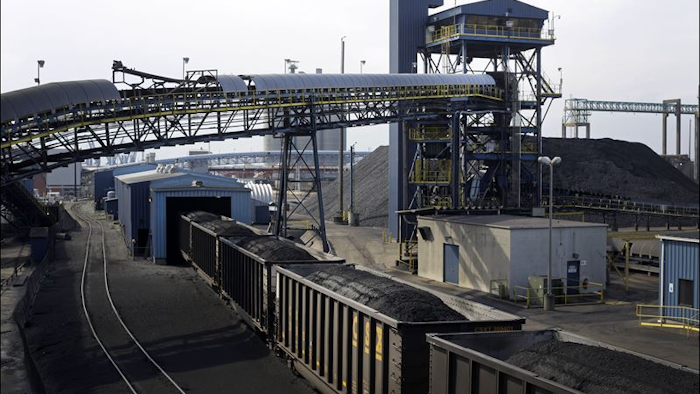 WASHINGTON (AP) — Hillary Rodham Clinton's campaign announced a $30 billion plan to help coal country adapt to new climate change policies that could have a striking economic impact on their communities.
Clinton's team says her proposal will protect health benefits for coal miners and their families and help them retrain for new jobs. The plan will also use a combination of tax incentives and government grants to help coal-dependent communities repurpose old mine sites and attract new economic investment.
Eight years ago, Clinton ran as a champion of coal beating then Illinois Sen. Barack Obama in the Ohio and Pennsylvania primaries with support from working class white Democrats.
"But we're going to use coal, there's no doubt about it," said Clinton at a 2008 campaign event in Indiana. "It's just that we've got to figure out how to make it as clean as coal can be."
Her rhetoric has shifted now. In recent months, Clinton has tackled left on environmental issues, pledging to make combatting climate change a major goal of her presidency and opposing the Keystone XL pipeline, which was rejected by the Obama administration on Friday. She's also promised to "build on" President Barack Obama's plan mandating greenhouse gas reductions from power plants, a sweeping new environmental regulation that may result in the closure of hundreds of coal-fired plants and freeze construction of new coal plants.
But she's also vowed to protect coal workers, who she says helped power much of the country's economic growth.
"We have to move away from coal," she said in New Hampshire on Monday. "But that does not and should not mean we move away from coal miners, their families, and their communities. They kept the lights on."
The coal industry has suffered as governments have pushed new policies to curb climate change and promote more renewable fuels. A 2015 study by Duke University found the coal industry lost nearly 50,000 jobs since 2008. Coal now accounts for one-third of US power generation, with consumption falling 25 percent over the past decade. Emissions from coal-fired power plants are the nation's single largest source of carbon pollution.
Beyond providing new economic incentives for revitalizing coal county, Clinton's plan would expand broadband Internet access, invest in new infrastructure projects and find ways to replace local revenue for schools that's lost when coal production plants disappear.
Republicans have long denounced Obama and other Democrats for waging a "war on coal" — a charge Clinton seems unlikely to escape.
"Hillary Clinton is Public Enemy No. 1 for coal miners and their communities," said Republican National Committee spokesman Michael Short in a statement. "She wholeheartedly supports President Obama's EPA agenda that is crippling their way of life."