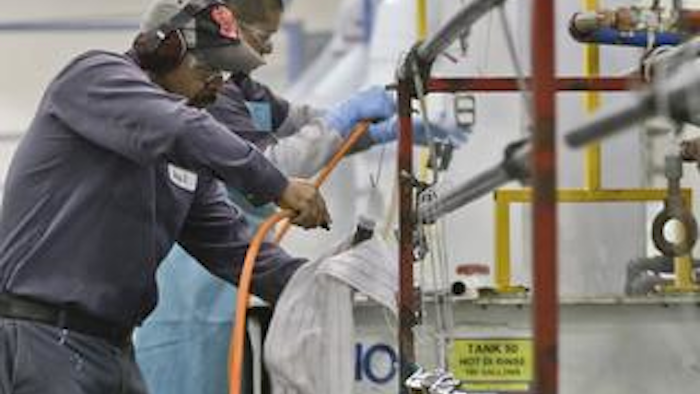 Although the latest monthly jobs report from the U.S. Labor Department showed strong hiring in October, the growth didn't filter down to the manufacturing sector.
The data released by the Bureau of Labor Statistics on Friday showed an increase of 271,000 in non-farm payrolls, the largest increase of the year. The unemployment rate, meanwhile, fell to 5.0 percent — its lowest since April of 2008.
Manufacturing, however, showed no net employment increase compared to revised September numbers.
Production of durable goods, in fact, showed a decrease of 3,000 payrolls despite increases in the automotive sector, but it was offset by gains in nondurable goods.
The news coincides with some unsettling indicators for the nation's manufacturing sector amid rising inventories and a strong dollar.
The Labor Department said earlier this week that productivity slowed during the third quarter of the year, and the Federal Reserve reported manufacturing production declines in both August and September.
The manufacturing sector is also at a virtual standstill according to the latest index from the Institute for Supply Management.
Still, the October numbers represented an improvement over the previous two months. U.S. manufacturing lost 9,000 jobs in September and 19,000 in August, according to revised BLS numbers.
The American Alliance for Manufacturing, however, noted that manufacturing "hasn't gained a single net job since January."
"The effects of China's industrial overcapacity can be seen in waves of layoffs in American steel, aluminum and other manufacturing sectors," said AAM President Scott Paul.
The robust hiring in October was paced by gains in professional and business services, health care, retail trade, food services and construction, the Labor Department said.
Reports indicated that the good hiring numbers increase the likelihood that the Federal Reserve will raise interest rates at its meeting next month.