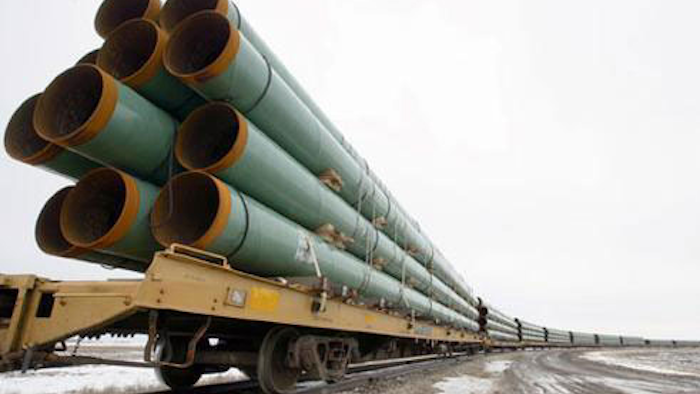 ​TransCanada on Monday asked the U.S. State Department to "pause" its review of the controversial Keystone XL pipeline as it negotiates the project's path through Nebraska.
The company wrote that it expects the review process in Nebraska to take seven to 12 months — a timeframe that could postpone a White House decision on the pipeline project until President Obama leaves office.
Keystone XL, which TransCanada first proposed in 2008, would complete a massive pipeline running from the Canadian oil sands to refineries on the Gulf Coast.
Proponents say that the proposal would create thousands of jobs and generate millions in tax revenue for nearby communities.
Critics, however, long argued that the pipeline posed pollution risks and would negatively impact carbon emissions. The global collapse in crude oil prices, meanwhile, hasn't helped its prospects.
Obama is widely expected to reject the project following the State Department review, but the delay requested by TransCanada could take the matter out of his hands.
TransCanada officials noted that the State Department previously suspended its review during a legal dispute over the pipeline in Nebraska.
"We feel under the current circumstances a similar suspension would be appropriate," said CEO Russ Girling.
It's currently unclear whether the State Department will agree to the request, which critics characterized an attempt to circumvent the White House until after the 2016 election.
"TransCanada is losing, and they're trying to preserve their options to be able to build the pipeline someday if they can get a climate denier in the White House," Tiernan Sittenfeld of the League of Conservation Voters told The New York Times.